Due to a myth that the Galapagos Islands are too remote and uninhabited to explore without a tour, visitors often book cruises. However, land-based tourism in the Galapagos Islands has increased in recent years; it's not only absolutely possible but offers a truly unique way of seeing the islands. In this article we help you learn how to plan your own trip to the Galapagos Islands, without a cruise or tour. 
Self-planned trip or Galapagos cruise tour?
A quick google search as you begin your planning for a Galapagos vacation, will bring up results for endless tour companies and cruises. Often, this leads to individuals asking the question, "can I plan a trip to the Galapagos Islands without a tour?". In short, the answer to this question is yes!
Often referred to as inhabited or remote, the Galapagos Islands has a reputation for being inaccessible and difficult to explore. Whilst it is true that most of the Galapagos islands are comprised of national park lands, tourists are very much welcome to visit without a tour company. There are plenty of hotels, day trips, rental services, diving trips, shops, conservation centres, hikes and much more on these stunning islands to keep you busy for weeks on end.
Whilst a Galapagos cruise might be ideal for some people, in recent years, visitors to the Galapagos Islands have been choosing to embark on self-planned trips to the Galapagos Islands in order to save money, practise sustainable travel, spend their money locally, explore at their own leisure and avoid being constantly boat bound. For more information about land based travel in the Galapagos Islands, click here. 
Plan your own trip to the Galapagos Islands
If you have decided to plan your own trip to the Galapagos Islands, this blog post will guide you through the process, from booking flights, to finding exciting activities to enjoy!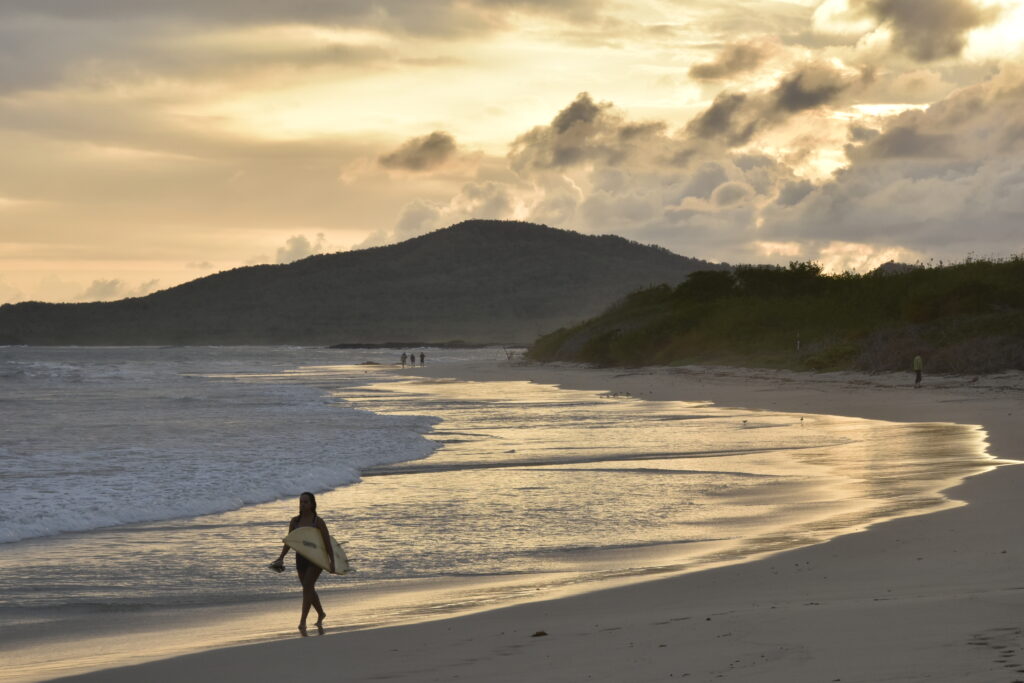 1. Pick a time of year to visit the Galapagos Islands
Are you a person who loves hiking, finding animals, perhaps kayaking and eating at local restaurants? Or do you love to spend your time in the sea; swimming, surfing, diving and snorkelling? Answering these questions might help you decide at which time of year to book your trip. Below, we outline some of the things you might like to consider as you make your decision:
The weather
Depending on what you would like to do during your visit to the Galapagos Islands, you'll want to select the right time of year. From December to May, the weather in the Galapagos is warm and wet. From June to November, it's colder but drier. In this article, we outline this in a little more detail.
The wildlife
If your dream is to see whales in the Galapagos Islands, you'll need to know when to visit in order to get the best chance of spotting them. Similarly, if you want to see hatching sea turtles, there's no point booking a stay in January. In this article, we outline when you can witness different species in the Galapagos Islands. 
2. Book your travel to the Galapagos Islands
Before you start looking for international flights to the Galapagos Islands, it's worth knowing that there are no direct international flights. Whether you're traveling from the US, Europe or anywhere else in the world, your first step is to find great flights to Guayaquil or Quito, in Ecuador.
Once you arrive in Ecuador, getting to the Galapagos Island is simple. Flights leaving from both Quito and Guayaquil are daily. They arrive at both the Islands of Baltra and San Cristobal. TAME, LATAM, and Avianca all fly from the mainland to the Islands of Baltra and San Cristobal, meaning you have more than one choice! Flights will take you approximately 2 hours, depending on which airport you're travelling to and from.
3. Decide which Galapagos Islands to visit (and how long you'd like to stay)
When you're looking to plan your own trip to the Galapagos Islands, it's hard to know how long to stay. Plus, you can island hop between eight of the islands, the four inhabited islands (Santa Cruz, San Cristóbal, Isabela and Floreana) and four uninhabited ones close to Santa Cruz (Seymour, Bartolomé, Plazas, Sante Fe). This gives you a whole lot of choice.
Of course the beauty of a self-planned trip is that you are able to decide where you go and how long you stay in each place! With cruises and tours based on a set itinerary, your self-planned trip can be flexible, with a possibility to extend your stay in places that you love.
In general, it is recommended that if you'd like to see all possible islands and enjoy the best activities and sites on each, then you should spend at least two weeks in the region. It's safe to say that three weeks – or even four – is even better! From here, it is your choice as to which islands you spend these days on. However, it is widely accepted that at least four of five days on each would make the for the ultimate Galapagos Islands trip.
4. Plan your travel between Galapagos Islands
Those not booked onto a cruise will face the extra task of having to book their travel between islands. But don't fret, it's not very difficult to arrange! One of the best ways to do this, is to base yourself on Santa Cruz (the main hub for transportation) and take planes or boats from here in order to reach other islands. If you're looking to visit a few, you'll be able to travel using:
A small plane 
Those who want to save on time and enjoy increased comfort will want to book with one of two local airlines; Emetebe and Zair. Offering flights in small planes, these airlines offer routes between Santa Cruz (Baltra), San Cristobal (Puerto Baquerizo Moreno), and Isabela (Puerto Villamil). It takes approximately 30 minutes for each route.
A ferry
Ingala – a local ferry company – operates passenger ferries between Isabela, Santa Cruz, Floreana, and the San Cristobal islands. Departing twice daily, these ferry routes are the cheapest way to get between the islands.
A private boat 
Private companies also offer speed boat transfers. Although there is a higher price tag involved, you'll get there quicker than with a public ferry. Please note that if you're susceptible to motion sickness, you might want to take necessary precautions.
5. Book your Galapagos accommodation
Whilst lots of visitors to the Galapagos Islands end up staying on cruise boats, there is a multitude of hotels, lodges and accommodation options on the islands. Browse the internet for the best accommodation options available, or perhaps join a Facebook group and gather some insider tips for the best accommodation options on each island.
It's also worth noting that if you are interested in sustainable travel and contributing positively to the environment, people and animals of the islands, there are a few things you can do.
Sustainable accommodation
Choosing sustainable accommodation is a great way to reduce your impact on the Galapagos Islands during your stay. With delicate ecosystems and a tourism industry increasing in scale, making sustainable choices as a tourist is ever more important. In this article, we share some of the reasons why choosing eco-friendly accommodation can have a positive effect on your trip. 
Responsible spending
Booking direct with your hotel of choice is beneficial for not only you but for your chosen hotel. Did you know that with many travellers today booking through platforms such as booking.com, operators lose out on anything from 10-25% of the overall cost of your stay? Booking through your hotel directly can result in more money remaining locally in the Galapagos Islands, whilst it might also offer you a more personalised and flexible stay. As smaller businesses, operators are able to make decisions of their own, not relying on the terms and conditions of third-party booking platforms. Speak with your chosen hotel and discuss your direct needs. It might just pay off!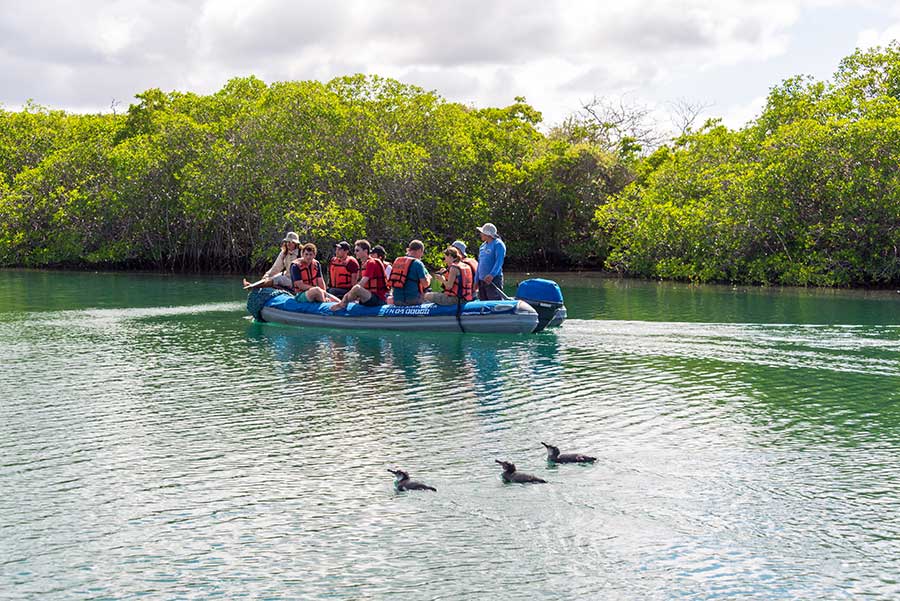 6. Plan the best things to do
On each island, there will be a host of different activities to enjoy. From hiking and surfing to swimming or sipping on cocktails, you'll find plenty of things to keep you busy. The best way to discover what to do on the specific Galapagos Island you're staying on, is to speak with your host or hotel owner during your stay.
Responsible Galapagos Islands tourism
When staying with a sustainable accommodation provider, hotel staff will be able to help you decide which tour operators to book day trips with in order to keep your impact low and ensure that your money contributes to environmentally positive actions.
At Chez Manany, we are proud to work alongside multiple conscious tourism companies which take care of the environment and wildlife of Isabela Island. We love to help you enjoy our islands, whilst also assisting you with a mindful trip to the Galapagos Islands. To speak with us, send an email to info@galapagos-ecolodge.com. We've love to help you plan your stay with us!
7. Learn what to pack in your suitcase
The final thing you'll want to do as you plan your own trip to the Galapagos Islands, is pack! A trip to these beautiful islands is not like any other vacation destination. There are specific things you can bring with you to make your trip more comfortable, efficient and enjoyable.
In this article, learn all about what to pack for the perfect Galapagos stay.