Chez Manany Galapagos Ecolodge, located on Isabela Island, is an incredible destination for those looking to experience the unique beauty of the Galapagos Islands. This environmentally-friendly lodge offers a range of amenities, top-notch service, and an unforgettable experience for visitors. Located only moments from one of the best snorkelling spots in the Galapagos Islands, and only a short walk from the town of Puerto Villamil, there's no better place for a luxury stay on Isabela Island. In this article, we talk about Chez Manany Galapagos Ecolodge and outline why it is the best of luxury hotels on Isabela Island, Galapagos.
The best of luxury hotels on Isabela Island, Galapagos
As soon as you arrive at Chez Manany on Isabela Island, you'll feel right at home. The friendly staff will greet you with open arms and usher you to your comfortable rooms, each decorated with tasteful, locally-inspired decor. Every morning, you'll wake up to breathtaking views of the lush forests and rolling hills of Isabela Island.
Chez Manany is a family owned business run by Manany – a tourism expert – and Wilson, an architect. Both Ecuadorian, the couple both love being close to nature. That is why, this beautiful ecolodge is located just outside the small town of Puerto Villamil, next to a mangrove area protected by the Ramsar Convention as well as the lagoon Concha de Perla. As a result, guests at Chez Manany have access to some of the best snorkelling on the island. Sea lions, turtles, beautiful fish and more will be at your fingertips as you float through the calm waters here.
What makes Chez Manany one of the best luxury hotels on Isabela Island?
Thanks to their knowledge of Isabela Island and their love for the nature of the Galapagos Islands, owners Manany and Wilson are well placed to help guests enjoy authentic stays in one of the best locations on Isabela Island. But what is it that makes a stay at Chez Manany truly special?
Luxury amenities
Chez Manany Galapagos Ecolodge is a luxury ecolodge, where premium stays are paired with environmental responsibility and sustainability. With uniquely designed architecture, the lodge seamlessly blends into its natural surroundings, allowing guests to appreciate and protect the environment simultaneously. All rooms have panoramic windows and large balconies, whilst a 360-degree rooftop allows for great comfort and incredible immersion in nature. Apartments are equipped with high quality amenities and American-style kitchens.
"Of all the hotels I have seen in both Isabela and Sta Cruz Islands, so far this has the most luxurious look and feel."
Incredible service
At Chez Manany, guests received a highly personalised service, unmatched by other accommodation options in Puerto Villamil. Manany and Wilson are always excited about recommending local activities and providing guests with information about their stays.
"Manany was an incredible host. As a woman traveling abroad alone, I felt safe, and comfortable in this lovely environment. I stayed for 7 nights, participating in tours each day. Manany was awesome at assisting me with communication and transportation on several occasions. She took the time to recommend dining options, grocery locations, anything that I needed."
Comfortable accommodation
All of the room options on site have panoramic windows and spacious balconies, with interiors adorned with beautifully crafted local artisan designs. The lodge has two Design Apartments, which are situated in a single building and offer guests access to a rooftop terrace with breathtaking 360º views of the highlands, ocean, and town. Similarly, there is also a Romantic Suite located within the main building. This suite features a private terrace and direct access to a viewing tower where guests can relax and enjoy the word-class scenery.
"The Design Apartment was more than enough space for two – ample kitchen & living room, two bedrooms, two private balconies, and two bathrooms. We could have comfortably brought 3-4 friends! 10/10, staying in Chez Manany was the highlight of our Galapagos trip."
Eco-luxury
Chez Manany places great emphasis on the balance between sustainability and comfort. Staff here has a strong commitment to providing guests with an unparalleled vacation experience while maintaining the highest quality standards. The property has a very long list of sustainability initiatives, whilst the owners themselves are also involved in local projects in tourism and sustainability. During your stay, you'll have free access to organic herbs from the garden.
"This eco lodge was a dream come true! It is gorgeous and like it's own little slice of heaven! Manany herself was also a dream host – she is so friendly and helpful! She showed us all of the amazing eco-friendly features of the property (her husband is the architect!), which is just wonderful!"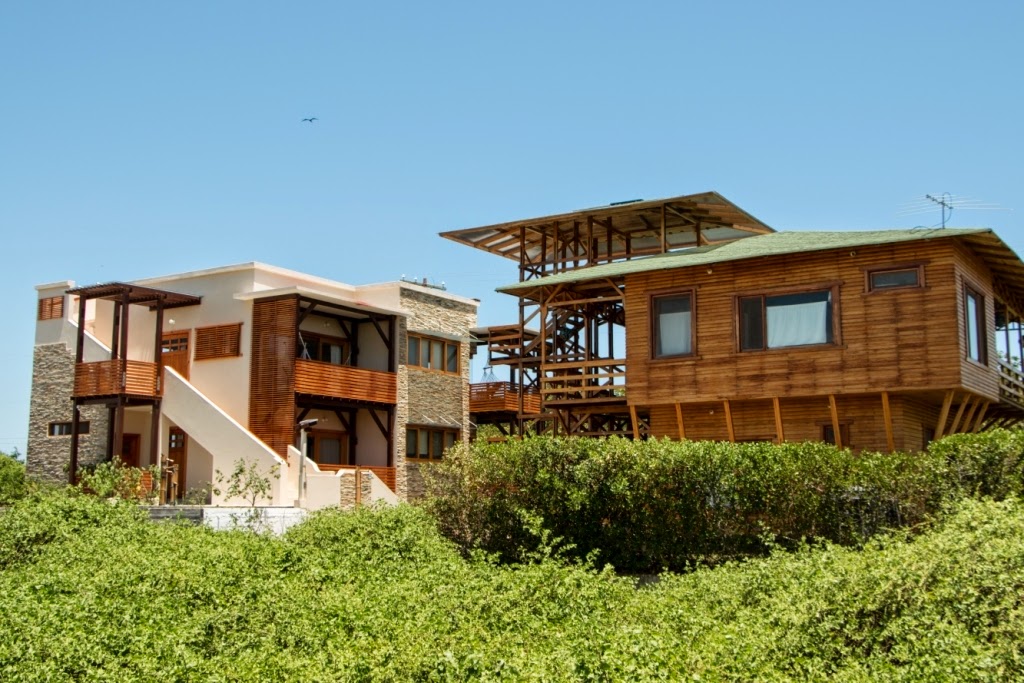 A luxury stay paired with world-class experiences
For those looking to explore Isabela Island, Chez Manany is the perfect place to start. Chez Manany recommends a variety of excursions, such as snorkelling, hiking, kayaking, and bird watching (amongst many others). During your stay, you'll have the opportunity to witness the incredible wildlife that makes the islands famous, such as giant tortoises, sea lions, and marine iguanas.
To learn more about the things you can do in Isabela Island, click here. 
Your luxury hotel on Isabela Island with a sustainable outlook
Chez Manany Galapagos Ecolodge offers a unique and unforgettable experience for tourists visiting Isabela Island. From the moment of arrival to the last goodbye, the lodge's eco-friendliness, top-notch service, and spectacular location will leave a lasting impression.
To book your stay at one of the best eco luxury hotels in Isabela Island, click here.