The charming little village of Puerto Villamil is located on Isabela Island in the Galapagos archipelago. Surrounded by palm trees and white-sanded beaches, the village offers a range of activities for visitors, including snorkelling, hiking, swimming, wildlife spotting and much more. Visitors to Puerto Villamil can also enjoy local cuisine and comfortable accommodation options, making it a must-see destination for those looking for a unique and eco-friendly experience in the Galapagos. In this article, we talk about Puerto Villamil, Isabela Island, and uncover all the best bits for those planning their trips.
An intro to Puerto Villamil, Isabela Island
Puerto Villamil is a popular destination for tourists – and there's no wondering why! Those seeking a unique and engaging travel experience flock here for the town's beautiful beaches, including Concha de Perla, and its snorkelling and incredible marine life. Adventure seekers hike to the top of the Sierra Negra volcano for incredible views of the surrounding landscape a short drive away. Meanwhile, wildlife lovers love the town itself for its accessibility to giant tortoises, flamingos and all kinds of unique Galapagos wildlife.
But Puerto Villamil offers more than just otherworldly nature. Visitors can also visit the Wall of Tears; a historic site constructed by prisoners in the 1940s, as well as authentic Ecuadorian and seafood restaurants along the glistening coastline. The village is also recognized for its sustainability initiatives, particularly in the Galapagos shellfish fisheries.
Whether you're looking for adventure, relaxation, or a combination of both, Puerto Villamil on Isabela Island is an excellent choice for a memorable and immersive travel experience.
Where is Puerto Villamil?
Puerto Villamil is located on the southeastern edge of Isabela Island in the Galapagos Islands. Its location on the largest island in the archipelago means that it's a great base for tourists seeking an authentic adventure.
To learn a little more about the location of Puerto Villamil and the Galapagos Islands, click here. 
How can you get to Puerto Villamil?
From the mainland
Traveling to the Galapagos Islands is a convenient process upon arrival in Ecuador, as flights depart daily from both Quito and Guayaquil to the Islands of Baltra and San Cristobal. These flights are offered by major airlines such as TAME, LATAM, and Avianca, providing travelers with flexibility and options.
Once on the islands, visitors can take a ferry to reach Puerto Villamil on Isabela Island, where they can enjoy the village's many tourist attractions, including beautiful beaches, historic sites like the Wall of Tears, and opportunities for wildlife watching. By having multiple flights and ferry options, travellers can easily plan their trip to the Galapagos and explore the unique ecosystem and cultural heritage of Puerto Villamil.
From Baltra
For direct travel to Isabela Island from Baltra, Fly Galapagos or Emetebe airlines are recommended for flights straight to Puerto Villamil. However, taking a ferry is a more affordable and adventurous option, allowing travellers a deeper appreciation of the islands.
There are four parts to the journey from Baltra to Isabela Island:
taking the airline bus to Ithabaca canal
boarding a ferry to Santa Cruz Island
taking a bus or taxi to Puerto Ayora
boarding a boat to Isabela Island.
The ferry crossing takes about two hours and costs around $30, while the first three parts of the journey cost only a few dollars.
To find out more about transport to Puerto Villamil, click here.
The history of Puerto Villamil
Puerto Villamil has a short but interesting history, making it a great tourist destination for those interested in history. The town's past stems from the colonisation of Isabela Island in the late 19th century.
Named after Antonio Gil, who led the group that first settled the island, Puerto Villamil was initially a small fishing village, with locals relying on the sea to survive. Over time, the village grew to become an important stop for visitors to the Galapagos.
In 1944, during the end of World War II in Europe, the Ecuadorian government established a prison on Isabela Island. Three hundred prisoners and 30 wardens arrived on the southern end of Isabela in 1946, living in poor conditions while constructing the 'Wall of Tears'. Conditions were so bad that a rebellion broke out in 1958, resulting in the closure of the Isabela penal colony in 1959.
Later, in the 20th century, Puerto Villamil shifted its focus to tourism, with the village's natural beauty and unique ecosystem attracting visitors from around the world. From here, Puerto Villamil became known for its emphasis on sustainability and conservation, with a strong commitment to preserving the pristine environment of the Galapagos.
Despite its relatively short history, Puerto Villamil is a key part of the cultural heritage of the Galapagos Islands and continues to draw visitors who are looking for an eco-friendly and authentic travel experience.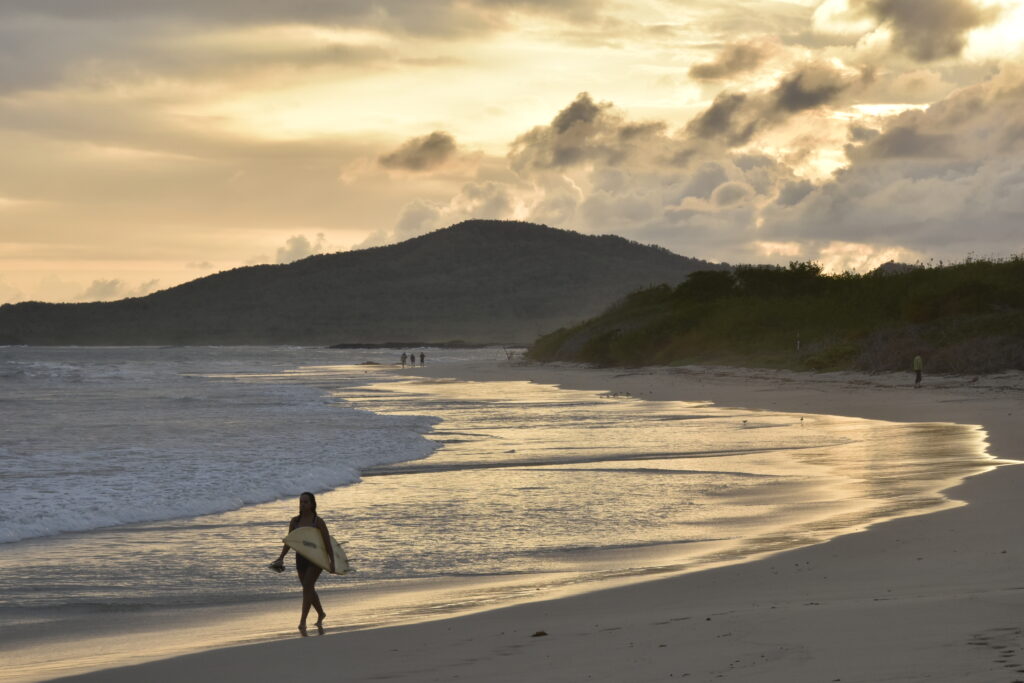 What can visitors do in Puerto Villamil?
Guests love Puerto Villamil, Isabela Island, for its friendly locals and sandy beaches. Surrounded by pristine nature that you can only dream of, it's a killer setting for an adventure. But during a visit, what exactly can you do in Puerto Villamil?
Activites in the water
When it comes to things to do in Puerto Villamil, a great place to start is the beach. Isabela Island is known for its potential for awesome based based activities – from kayaking to snorkelling, diving and even surfing.
Take a tour
Tours to various local icons and attractions are available from Puerto Villamil. This includes visits to Las Tintoreras as well as Los Tuneles – two otherworldly Isabela Island locations which can only be accessed by boat.
Do a hike
A number of hikes including those to Sierra Negra Volcano and the Wall of Tears cater to the visitors wanting to stretch their legs and witness all aspects of Isabela Island.
Spot wildlife
One of the main reasons people visit the Galapagos Islands is to spot the local wildlife. Isabela Island offers visitors the chance to see animals such as flamingos, Galapagos tortoises, blue-footed boobies and much more. A tortoise breeding centre offers tourists the chance to get up close to the region's most famous creatures and to learn a little.
So much more…
For more information regarding things to do in Puerto Villamil, Isabela Island, check out our ultimate guide.
Where can you eat and drink in Puerto Villamil?
Puerto Villamil has a range of food and drink options to satisfy any appetite. From local Galapagos cuisine to international fare, travelers can indulge in freshly caught seafood or sample vegetarian and vegan dishes. Visitors can also enjoy drinks at local bars while taking in stunning views of the surrounding natural beauty.
The Beach
To enjoy seaside views with your meal, head to The Beach. At this family-owned restaurant, Ecuadorian food and ice cold beers offer guests a taste of paradise!
El Cafetal
Contemporary yet casual, El Cafetal has a creative flair and offers beautifully prepared dishes. Drop by for tasty food or a coffee to energise you throughout the day at this friendly location in the central square of Puerto Villamil.
Endemic Turtle
Indulge in American, Italian and Mediterranean cuisine at Endemic Turtle and choose from a big menu packed with choices. Slightly outside the main plaza, you'll love the cosy atmosphere here.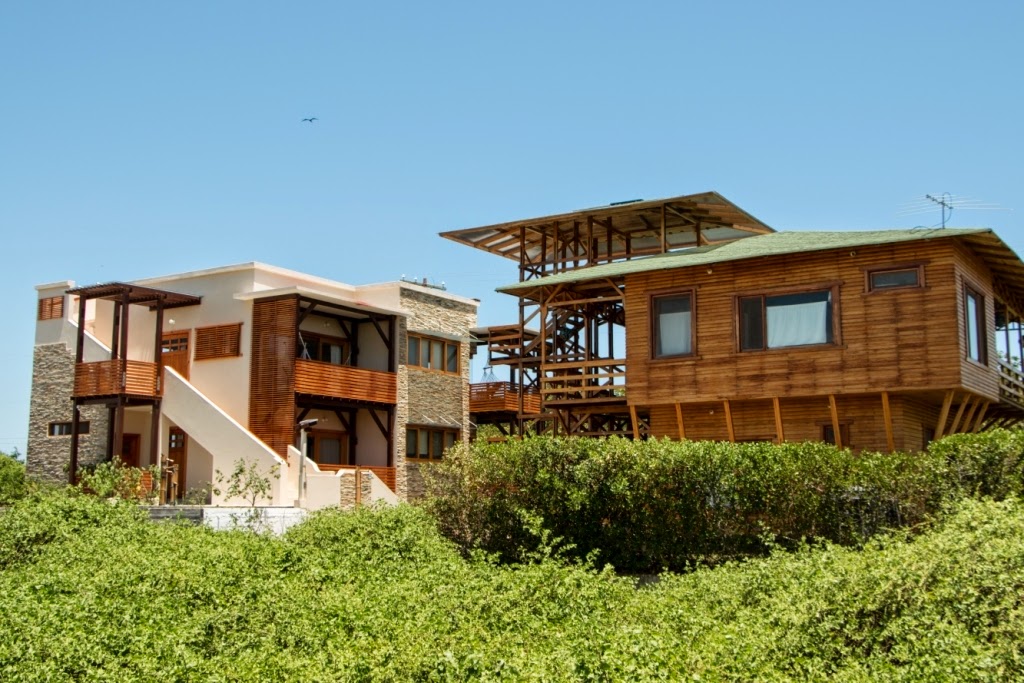 The best place to stay in Puerto Villamil
Looking for a place to stay in Puerto Villamil? Love being in a town, but also love the peace and quiet of nature? Chez Manany Galapagos Ecolodge offers the best of both worlds.
Located minutes from the town, Chez Manany has access to all of the best restaurants and attractions in the area. Meanwhile, the ecolodge sits amongst some beautiful nature with access to snorkelling site Concha De Perla only moments away.
To book your stay at Chez Manany, click here.