If you're looking at a trip to the beautiful Galapagos Islands this year, you'll need to know when to visit. In this part of the world, there is no bad time to visit, there are simply differences in the weather and environment which suit different travellers. In this article 'Galapagos Islands – the best time to visit' we outline the differences in the seasons, to help you plan a trip.
Galapagos Islands Weather and Seasons
The Galapagos Islands are beautiful year-round. Almost never 'cold' and fairly consistent in temperature, at whatever time you visit you'll be glad you did! However, there are some difference in the seasons here which are worth taking note of. Please consider that the government does limit the number of people visiting the Galapagos Islands year-round. Therefore, if you're planning a trip it is best to get informed quickly so that you don't miss out on your ideal time of year!
In general temperatures in the Galapagos range from 16 Celsius (60s Fahrenheit) to 32 Celsius (90s Fahrenheit). Throughout there year, there are changes of rain and also fog, whilst wind can be a big factor too – changing ocean conditions all year. There are however two main seasons in Galapagos Islands.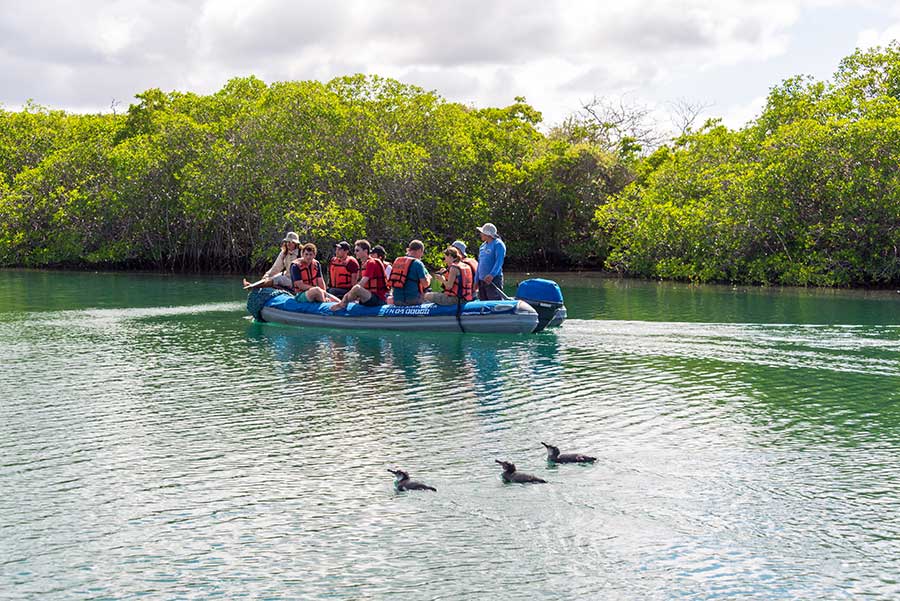 Visiting in December to May (warm and wet)
The best time to visit the Galapagos Islands (according to many travellers) is from December to May. These months offer temperatures around the 70s, 80s and sometimes 90s Fahrenheit (20-30 Celsius), making them ideal for being outdoors and exploring. Spotting wildlife, taking a dip in the ocean and even hiking are all possible in these kinds of temperatures. Also during this season, there are frequent showers and quite often overcast skies. Having said this, rain doesn't last all day and most days will see some hours of sunshine as well as occasional downpours. Due to warmer weather and rain, this wetter season also sees ample springtime blooms which dress the islands in wonderful colours.
Visiting in June to November (cool and dry)
Whilst June to November doesn't see drastically different weather conditions, there are certainly a few differences. Integral to this change in conditions is the Humboldt Current, which brings cool air temperatures in the 60s and 70s Fahrenheit (18-24 Celsius). Running northwest along the South American coast, this current brings cool water temperatures as well as lots of nutrient-rich water to support fish and sea life. In fact, it makes snorkelling even more exciting and brings the possibility of seeing even more marine life. Of course with this change in conditions comes a cooler sea temperature too, making swimming and sun bathing possible but perhaps a little less desirable! During this time of year, you can also expect bluer skies than the 'warm and wet' months.
Galapagos Islands: the best time to visit
As you can see, the best time to visit the Galapagos Island depends on what kind of activities you want to do, what animals you want to see and what kind of holiday you're looking for. Animals on the Galapagos Islands are visible all year-round, however their behaviours and activities change throughout. Whether it's hatching sea turtles you want to see, baby sea lions or whale sharks, in the remainder of this article we point out the highlights of each month, helping you to see for yourself which is the best time to visit.
January
In January, see moderate rainfall and high temperatures. See marine iguanas in bright colours on Espanola Island, and on Isabela visit for iguana breeding season. Meanwhile, green sea turtles begin laying eggs at this time of year. You may be able to spot some on the shore! Finches and warblers begin nesting in January too.
February
In February, the Galapagos Islands see the beginning of slightly cooler waters despite high temperatures and high rainfall. Many land animals, sea lions and turtles use this time for breeding or nesting. Meanwhile, beautiful blossoms across the archipelago make for vibrant colours and a great backdrop for your trip. Marine iguanas begin nesting on Santa Cruz and penguins head to Isabela and Fernandina in search of cooler waters.
March
In March the weather is wet and the high temperatures are at their peak. You may see baby sea lions or sea turtles across the shores. This is a great time to see penguins on Isabela and Fernandina, whilst Fernandina and North Seymour see marine iguana nesting.
April
In April, whilst the water is cooling the air temperature is very high and the weather is wet. The highlights of this month include the very beginning of the famous courtship dances of blue-footed boobies and the hatching of sea turtle eggs! On Isabela Island land iguana eggs begin hatching.
May
In May, dry season begins. Moderate temperatures and moderate rainfall make for great conditions for those looking for hiking experiences. Also during this month, green sea turtles begin hatching on Punta Cormorant, Puerto Egas, and Gardner Bay, whilst marine iguanas hatch on Santa Cruz. Booby mating season continues throughout May too!
June
In June, wet season comes to a real end and there is low rainfall. Many tourist flock to the Galapagos Islands during this time. Temperatures are fairly cool but very pleasant and the water temperature is also very pleasant. Across the Galapagos Islands, boobies nest and lay eggs and on Santa Cruz, giant tortoises decent from the highlands to begin mating season. However, perhaps the best part of June is whale watching season and the possibilities to spot whale sharks.
July
In July, rains can be present but not enough to limit your excursions. The weather is pleasantly warm and rainfall remains low. In terms of wildlife, lava lizards begin their 'push-ups' (mating behaviour) and whales and dolphins are commonly spotted across the Galapagos Islands. This is particularly true for Isabela and Fernandina. Booby and frigate bird eggs begin hatching in July too.
August
In August, visitors can expect dry conditions and fairly cool temperatures. There is also somewhat low rainfall at this time of year. Galapagos penguins move towards the central islands in August because of cold temperatures and on Santa Cruz giant tortoises migrate back to the highlands. Flamingos begin their mating rituals and Galapagos sea lions give birth, meaning you can see an abundance of pups across the archipelago.
September
In September, the Galapagos Islands experience very little rain and some of the lowest temperatures. Galapagos penguins begin their mating season and male sea lions can be seen fighting on land and in the water due to breeding season.
October
In October, the weather is somewhat dry and the temperatures remain cool. Blue footed booby chicks can be spotted around this time and Galapagos fur sea lions begin mating season. From October, the dry season starts its final phase.
November
In November, the weather is dry and the temperatures are still somewhat cool. Water temperatures have however picked up a little. November is a great time to see sea lions pups at inshore nurseries!
December
In December, the dry season ends once again. Despite this, there is still low rainfall and the temperatures are somewhat low and pleasant. The highlight of December is the hatching of giant tortoise eggs. This process does last until April. December until the beginning of January is another very popular time for tourists to visit the Galapagos Islands!

When is the best time to go snorkelling in the Galapagos Islands?
The best time to go snorkelling and swimming in the Galapagos Islands is between December and May. This is the wet season, however the temperatures are a little higher and the water is warmer. Those coming to the Galapagos Islands from June – November can still enjoy the water, however temperatures can drop quite low and visibility falls due to seasonal winds. To be more specific, December until April is the best time to snorkel and enjoy the ocean!
Visit the Galapagos Islands
Chez Manany Galapagos Ecolodge is a homely, hospitable and highly eco-friendly accommodation option on Isabela Island. Featuring a variety of rooms, relaxing hammocks and an excellent location near the friendly town of Puerto Villamil, Chez Manany is a Galapagos Islands favourite.
For more information about Chez Manany or to book a room, click here.