Your Ultimate Guide to Isabela Island
Extraordinarily rich in bird, animal and marine life and scattered with rare flora, Isabela Island is not only the largest of Galapagos Islands, but also one of the youngest. Formed by the joining of six volcanoes, this divinely wild location in the Pacific Ocean will blow you away. 
In this Ultimate Guide to Isabela Island, we offer the best things to do, see and experience during a stay on the island. And make sure you stay for more than a couple of days too; there is enough to keep visitors occupied here for over week.
Explore the largest Galapagos Island
When asked why visitors should make the journey to Isabela Island, our response is simple. As the largest island in the Galapagos, a stay here not only promises endless opportunity for exploration, but a unique glimpse into one of the lesser-visited islands of the famous archipelago. Those who visit the island, leave wondering why more people don't make the journey.
With an area of 4,640 square kilometres, Isabela Island is almost four times larger than Santa Cruz. Meanwhile its modest age of approximately 1 million years puts it amongst the youngest of the Galapagos Islands. Isabela Island was created by the merging of six volcanoes, of which five are still active today. This makes the spot one of the most volcanically active places on earth! With its young age and volcanic formation, has come some fascinating and very unique adaptations in flora and fauna over the last million years.
Today, visitors love Isabela Island for its small community feel, otherworldly landscapes and incredibly rich wildlife. Find here, giant tortoises, marine iguanas, pink flamingoes, penguins and many sea lions. The mere 2,200 residents here are certainly outnumbered by wildlife, but that's exactly what makes it feel like paradise. Isabela Island is a place where nature dominates.
A guide to Isabela Island
Since the island is a little further away than the main and centrally located Galapagos Islands, some people don't know too much about it. Therefore, in this Ultimate Guide we answer the question, 'what are the best things to do on Isabela Island?', and help you discover for yourself just what a magical place this is.
Read on to discover not only the best things to see and do, but also where to eat, drink and stay during your visit.
Getting to Isabela Island is easy and stress-free. Click here for more information about how to get to Isabela Island.
Things to do on Isabela Island
1. Explore the beaches of Isabela Island
Naturally, one of the main reasons people visit the Galapagos Islands is for the opportunity to see unique wildlife. On Isabela Island, there are plenty of spots to witness bird, marine and wildlife. The beach is certainly one of these places.
Visitors are often surprised at just how gorgeous beaches really are here. At Puerto Villamil Beach, endless sand stretches out in front of you, framed by gorgeous turquoise ocean. In fact, this beach is the longest stretch of white sand in the entire Galapagos archipelago! 
Much more than the white sand, visitors to Puerto Villamil Beach enjoy spotting the beautiful marina iguanas. Find these intriguing creatures resting in the sun, swimming in the shallows and dashing up and down the beach. Additionally, during a visit to the beach you may also see colourful crabs resting on the jagged rocks. 
Those who enjoy relaxing strolls along the coast will just love the walk down to La Playita. At this secluded section of beach, you may also enjoy a swim and some welcomed shade under the sun, accompanied by local iguanas. 
2. Go snorkelling at Concha de Perla and Bay
Those who enjoy the water will be filled with excitement approaching the crystal clear Concha de Perla – meaning pearl oyster shell. Concha de Perla is a very tranquil bay of unbelievably turquoise water, framed with mangroves and thriving with local wildlife. 
Take snorkelling to a whole new level whilst in Isabela Island and watch penguins dashing around underwater in the pursuit of fish. Swim amongst turtles and tropical fish and lap up the gorgeous views of the Galapagos. Access to the water is easy here, with the help of wooden stairs.
Another attraction on the island as a whole, but in particular at Concha de Perla, comes in the form of the many sea lions! The playful creatures swim amongst snorkelers and rest on the wooden walkways which lead visitors down to the water. This means that you can get very close to the animals and they often appear to 'play' with tourists. Having said this, we recommend that you make sure to respect the animals' space as you walk or swim past them.
Another excellent spot for snorkelling is found at Los Tuneles. Fascinating rocky arches in the water and a maze of glistening clear waters make it equally ideal for those looking for some time in the water. Look closely and you may even find seahorses lurking amongst the rocks.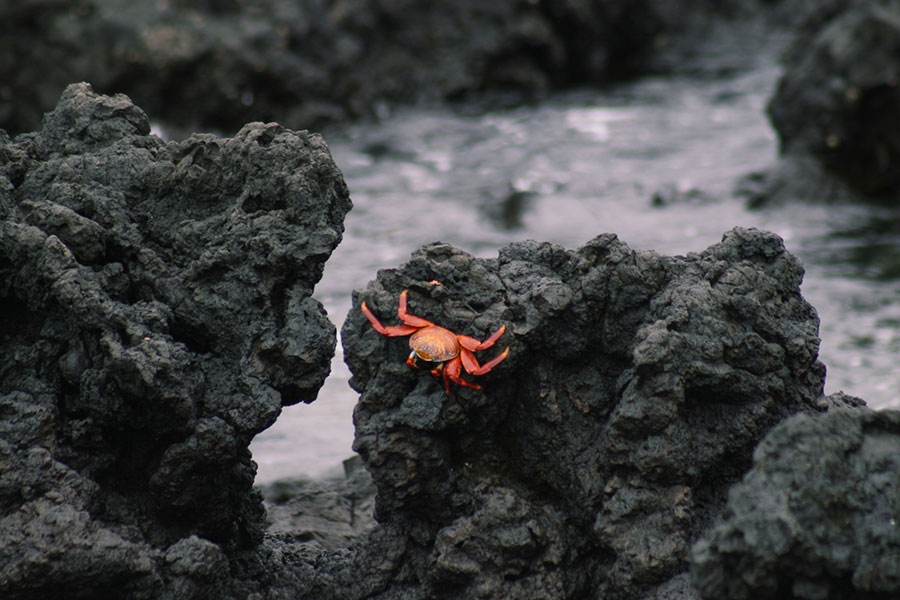 3. Take a short boat journey to Las Tintoreras
Another of the best things to do on Isabela Island is to visit Las Tintoreras Islets. This series of small islands are situated amongst calm, crystal clear waters and are in most cases less than a kilometres long and 100 metres wide. 
Just like most attractions on the Galapagos Islands, nature steals the show here. Find marine iguanas resting upon the rocks of the igneous landscape. Meanwhile, spot Galapagos penguins, blue-footed boobies, turtles and sea lions go about their days. Of particular note, at Las Tintoreras, you might even spot white tip sharks lurking in the water.
To get to Las Tintoreras, you can take a boat, and the journey won't take you long at all; only about 10 minutes. As you step off the boat and onto the otherworldly, black, rocky surface, you'll have a hard time not stepping on the iguanas, which never seem particularly scared of human presence!
4. Visit Isabela Island's Wall of Tears
Don't be fooled by Isabela Island, whilst wildlife might be the biggest draw for nature-lovers, it has an interesting human history too. One of the most famous things to do on Isabela Island is to visit the Wall of Tears. After the Second World War this remote spot was home to a penal colony. 
Prisoners, being punished for their various crimes, were forced to build a wall which (horrifically) would eventually become part of their own prison. Chiselling volcanic rock and lugging stones back to the building site, prisoners built a wall 65 feet high and 300 feet long.  
Today it is thought that the wall was actually built for no reason other than to punish workers. It has no real purpose. Upon visiting Isabela Island today, those interested in history might like to walk to the top of the wall, which represents an interesting part of the island's history and stands as a memory of the cruelty inflicted on lots of lives during this time. 
5. Learn a little at the Tortoise Breeding Centre
When thinking about the Galapagos Islands, you most likely think of giant tortoises. During your visit, you can see such iconic tortoises at the Arnaldo Tupiza Tortoise Breeding Centre. Only a short and very beautiful walk across board walks and wetlands from Puerto Villamil, you'll find five different subspecies of Giant Galapagos Tortoise at the breeding centre. 
Spend some time learning about the conservation efforts of the wonderful animals. Listen to staff explain the process of incubation and the care provided for adult tortoises. The excellent breeding program here aims to increase populations of these unique creatures, ensuring that they are able to survive as wild species across the entirety of the Galapagos Islands. 
6. Visit Isabela Island's idyllic village – Puerto Villamil
If you like the sound of sandy beaches lined with palm trees and a sleepy, remote village with friendly locals, you'll absolutely love Puerto Villamil. A small port village on the southeastern edge of the island, Puerto Villamil is home to only 2,200 people. The village has a strong history of fishing and agriculture. Today it is frequented by sailboats and private yachts passing by on their way to the Marquesas Islands. 
A handful of high-quality, intimate restaurants cater to all sorts of preferences in Puerto Villamil. So during your stay, sit back and relax in this slow-paced paradise for an entire afternoon, and soak in the atmosphere. You'll welcome the well-deserved break from touring and exploring the island!
During a day spent in the village, why not stop by at Tortoises Souvenirs and pick up some gifts for the family back home? Inside, find an array of tortoise and other wildlife-themed gifts. Plus, in support of sustainable tourism and reducing single-use plastics, the shop offers a $1 'refill my bottle' service! Make sure you take part and do your bit for Isabela Island's pristine nature!
Find more information about the best restaurants to visit and hotel to stay at in Puerto Villamil, near the end of this Ultimate Guide to Isabela Island. 
7. Hike to Sierra Negra Volcano
Abundant nature and volcanic scenery go hand in hand with hiking. So during your visit, embark on a hike to the second largest volcanic caldera in the world. Please note that the hike to this magnificent volcano is only accessible with a knowledgeable guide. Having said this, don't be put off; it's not expensive and totally worth the experience.
Sierra Negra volcano is Isabela Island's most active volcano, with a crater so large that it probably won't fit into your camera lens! In fact, the caldera of the volcano is an enormous 9 kilometres across at its widest point. 
The most recent eruption was in June 2018, following an earthquake. If you do visit during your stay on the island, you'll most likely see smoke rising from within the crater, but nothing more dramatic than this! 
During the 5-6 hour hike, inclines and the equatorial sun make the hike a little challenging for some, however once you reach the top – with views over the gaping crater – you'll will be endlessly glad that they made the trip. Dramatic, rocky landscapes with very little vegetation at the peak help you understand the growth of the island itself and bring a whole new perspective to your stay on Isabela Island. 
Choose Pahoehoe Tours for your hike and enjoy a packed lunch, naturalist guide and transportation. The company prides itself on its sustainable tourism practices and will help you to experience the spectacular Galapagos with minimal impact on wildlife and the environment.
8. Go to Flamingo pond
West of Puerto Villamil – a little further on from the Tortoise Breeding Centre – you'll stumble across a series of saltwater and brackish lagoons which support all sorts of seabirds and other wildlife. Full of crustaceans and mineral salts, this series of lagoons supports all kinds of wildlife, particularly birds. Of note, visitors are able to spot flamingos here, which at certain times of year (and depending on the season and the tides) are visible in large numbers. Isabela Island is actually home to the largest concentration in the Galapagos Islands.
The American (or Caribbean) flamingo is the species which lives in the Galapagos. However, slightly different to those living across the Caribbean and Americas, these Galapagos based flamingos are significantly smaller and exhibit a different body shape. The vibrant pink colour of these beautiful birds comes from the diet that they eat – namely crustaceans, algae and microscopic plant materials. Offering the right conditions and food sources, the ponds just outside of Puerto Villamil support flamingos and create an excellent habitat for them.
It is important to mention however, that flamingos are in danger of extinction. Their breeding success is dependent on whether their nests are disturbed, because once they have been interrupted they abandon their eggs. During a trip to Isabela Island, it is highly important that you stay on designated pathways and respect wildlife!
9. Float across the water on a kayak
A trip to Isabela Island is incomplete without some time spent gliding across the sea on a kayak. Kayaking is an excellent way for tourists to explore the coast in harmony with the surrounding nature and wildlife. One way to discover the best of the island's coastal spots, is to take a kayaking tour.
Kayaking Isabela offers a great tour option in the bay of Puerto Villamil. During the trip, guests can observe the wonderful natural habitat of all kinds of native specifies. At certain points, your guide will stop to allow for snorkelling time! For more information contact Maria at leslyabudeye@hotmail.com!
10. Ride Isabela Island's surf
During a trip to the idyllic Isabela Island, don't pass up on the chance to ride the waves. The beach at Puerto Villamil is known for its waves, and is also beginner-friendly. If you're a seasoned surfer, you'll just need to grab a board before heading out into the waves. However, beginners might like to take a lesson with a local before really taking the plunge.
Both of these options are catered perfectly for with Galapagos Bike and Surf. Emilie from Canada, and Junior from Isabela Island run this handy little rental shop in the town and are always happy to accommodate to new visitors. Plus, newbies to the art of surfing are in for a real treat. Lessons are run by Junior, who is trained by the International Surf Association and has been teaching for more than 20 years! You can also get your snorkelling gear from them too. For more information, head to the Galapagos Bike & Surf website.
Restaurants and cafes on Isabela Island

 
When it comes to eating and drinking in Puerto Villamil, there's plenty to choose from. You'll have no trouble tracking down lots of great spots to grab a drink on a hot day, or enjoy an evening meal. So, read on to discover some of the best restaurants on Isabela Island!
The Beach
To enjoy seaside views with your meal, head to The Beach. At this family-owned restaurant, Ecuadorian food and ice cold beers offer guests a taste of paradise!
El Cafetal
Contemporary yet casual, El Cafetal has a creative flair and offers beautifully prepared dishes. Drop by for tasty food or a coffee to energise you throughout the day at this friendly location in the central square of Puerto Villamil.
Endemic Turtle
Indulge in American, Italian and Mediterranean cuisine at Endemic Turtle and choose from a big menu packed with choices. Slightly outside the main plaza, you'll love the cosy atmosphere here.
Where to stay on Isabela Island
How do you get around Isabela Island?
You can get around Isabela Island on foot or by bicycle. Very few cars are found on the island. This makes riding a bicycle a great option for those visiting Isabela. Various bike hire stores are on offer for tourists. On the other hand, those staying in the main village – Puerto Villamil – will find walking to be absolutely adequate, with many of the main attractions closely. If you're looking for a tour to another part of the island, then the tour company you book with will be able to arrange transport for you!
Can you stay on Isabela Island, Galapagos?
Yes! You can stay on Isabela Island in the Galapagos Islands. Whilst some of the islands are uninhabited and no hotels are available, Isabela Island is open for overnight guests. Other islands that you can stay overnight on include Santa Cruz, San Cristobal, and Floreana. On Isabela Island, there are a number of hotels and they are mostly located in Puerto Villamil – the island's main town.
Chez Manany Galapagos Ecolodge
Warm, friendly hospitality, a respect for the environment and comfortable, beautifully decorated accommodation can all be found at Chez Manany. 
Situated just outside the sleepy town of Puerto Villamil, Chez Manany is family-owned and operated by Manany, a tourism expert, and Wilson an architect – both from Ecuador. 
Being close to nature defines the experience they provide at their gorgeously appointed, small-scale hotel in the heart of the Galapagos Islands. Their idyllic location next to Concha de Perla offers guests an immersive experience into a life on Isabela Island. 
Manany and Wilson hold sustainability at the heart of everything they do, working to improve their processes and protect their environment each day. Their ecolodge offers guests the chance to witness sustainable tourism practices first-hand. This is achieved through the offering of welcoming, idyllic stays that are harmonious with the natural surroundings.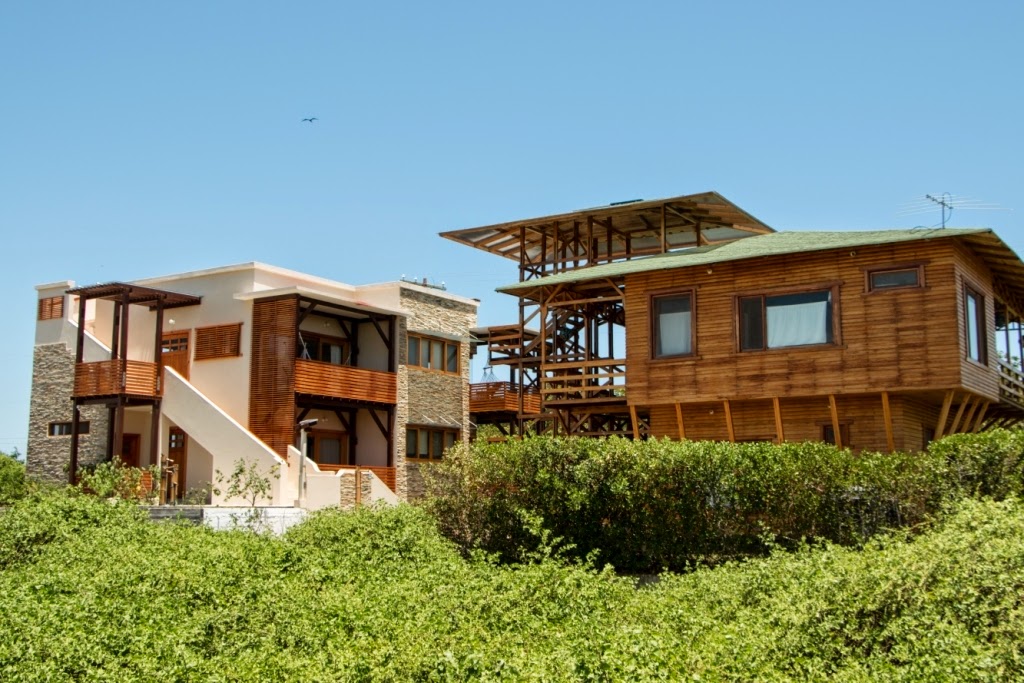 For more information about Chez Manany please click here. 
To contact Chez Manany about an upcoming stay, don't hesitate to contact us here. We love to answer your questions!