Before packing up and heading to Puerto Villamil for a once in a lifetime adventure, you'll need to know a few things about your destination. In this brief guide, we help you with just that. Upon finishing this short blog post, you'll be ready for your trip. Read on to get informed about how to get the most out of your stay on Isabela Island. 
Puerto Villamil for tourists
Puerto Villamil on Isabela Island, Galapagos, is a small port village with a slow pace. Guests love the island for its friendly locals and sandy beaches, all surrounded by pristine nature that you can only dream of.
A very brief history of Puerto Villamil
Seahorse-shaped Isabela was initially named Albemarle Island by one of the first people to ever set foot on the island in 1684. Ecuador later laid claim to the Galapagos Islands in 1832, with the islands becoming a penal colony from 1946. In Puerto Villamil today, guests can see evidence of this era first hand, at the Wall of Tears!
Meanwhile, 1835 brought about the visit of Charles Darwin who developed his theory of evolution. His visit to Isabela Island occurred at Tagus Cove on the northwestern side of the island, which at the time was home to whalers and pirates.
In 1893, the south of the island was colonised, with the founding of the town Puerto Vilamill by Antonio Gil. Shortly after, Santa Tomás in the highlands was also inhabited. Here, locals depended on livestock and sulphur exploitation on the steep slopes of Sierra Negra Volcano.
As time went on, Puerto Villamil became the real centre of Isabela Island, where residents traditionally earned a living through agriculture or fishing. Today however, many locals earn a living through tourist-based activities, including that of accommodation, hospitality and tour guiding.
Nature and wildlife
The beautiful Isabela Island was formed through the joining of six volcanoes! What stands today is a beautiful geological marvel upon which around 2000 residents and astonishing amounts of wildlife live. 
Puerto Villamil is absolutely inundated with wildlife for you to admire. On the island you'll find; several species of Darwin's finches, land birds, Galapagos hawks, Sally Lightfoot crabs, marine and land iguanas, penguins, flamingos and lizards. In the surrounding waters, expect to stumble upon sea lions, white tip sharks, rays and all sorts of other marine life!
How to get to Puerto Villamil
Check out our blog post – how to get to Isabela Island – for more information. 
Things to do in Puerto Villamil
Activities for those visiting Puerto Villamil centre around exploring the nature and admiring the diverse wildlife and marine life of the island. Snorkelling and kayaking with tour company Kayaking Isabela is a great place to start when it comes to exploring. Meanwhile, hiking and scuba diving are also all popular activities on the island. After a day of adventure, kick back in the quaint town of Puerto Villamil, renowned for its rich history and relaxing atmosphere for guests. Don't forget to drop by Tortoises Souvenirs store and grab some gifts for your friends or family back home.
Those staying at Chez Manany, will be provided with as much as information as they like about the island, from the owners and proud locals of Puerto Villamil! Otherwise, for much more information regarding things to do in Puerto Villamil, refer to our Ultimate Guide to Isabela Island.
The best ways to explore the area
Whilst walking is absolutely possible in order to reach most places in Puerto Villamil, you'll have lots of fun hiring a bike. The nature of the village – as small and very close to many wonderful gems – means that a bike will be all you need during your stay. Hire a bike from Galapagos Bike & Surf, and you'll be all set!
Pricing and budget
Visitors to Puerto Villamil can adapt according to their budget. For example, whilst you can take a snorkelling tour for $150 to some of the best spots around the island, you can also hire a snorkelling set for the day for $5. In general however, expect to pay:
$3 per hour for bike hire.
$8-20 for a meal.
Anywhere from $30-300 per night at a hotel.
Shops, restaurants, cafes
There are a great selection of restaurants and cafes – serving both international and local cuisine – in Puerto Villamil. For a laid-back, local dining experience head to El Cafetal or Endemic Turtle. Here, tourists can taste some fresh local seafood in the heart of the village. For more information about these and more, please refer to our Ultimate Guide!
How to be respectful during your stay
Isabela Island is a teeming with wildlife and is treasured for its biodiversity and pristine environment. With the rise of tourism in the Galapagos, we encourage you to reduce your impact as much as possible. Avoiding the purchase of single-use plastic and bringing your own reusable water bottle is one great way to enjoy an eco-conscious trip. In addition, we highly encourage all visitors to Isabela to refer to the National Park rules before arrival, so to reduce harm to wildlife. Please also try not to bring batteries to the island and consider the use of solar devices instead!
Where to stay on Isabela Island
Located only a minute from the passenger pier, near one of the island's most beautiful coves, and only 5 minutes by bike from the centre of the town is Chez Manany. Chez Manany is an eco-friendly, idyllic lodge in Puerto Villamil, perfect for those who love to immerse themselves in nature. The benefit of a stay here, is the accommodation's location; close to the main sites and bustle of the town.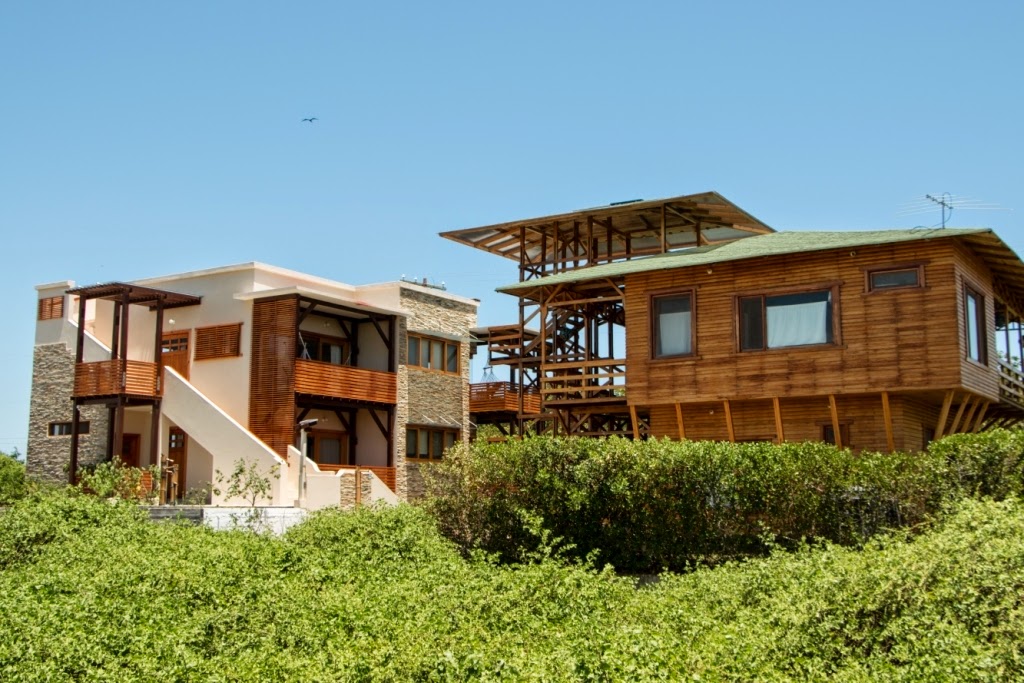 For more information about Chez Manany, please click here!