A trip to Isabela Island deserves more than one day of exploration. Whilst many tourists to The Galapagos Islands embark on multi-day cruises, or join day trips to the island, there's so much more to do and see. We believe that a trip to Isabela Island deserves at least four days! In this article, we share how you can spend four days on Isabela Island, through an itinerary that mentions many of the best sites and things to do on the island. Read on to find out more.

How many days should I spend on Isabela Island?
At Chez Manany, we highly recommend spending four days on Isabela Island. The island offers both land and sea based activities, as well as historical and cultural attractions. Snorkelling, swimming, hiking, cycling, kayaking and more, Isabela Island was made to be explored. Therefore, a four day itinerary allows visitors to get a good grasp of the island and all its beauty and diversity. Find our recommended four day itinerary below!
Four days on Isabela Island
Day 1
On day 1, arrive by boat from Santa Cruz Island in the morning. Your journey across the sea will offer excellent Galapagos Island views. Upon arrival, check into Chez Manany Galapagos Ecolodge and unpack your bags, ready for a relaxing stay!
Take the short walk into Puerto Villamil and spend some time wandering around the town. Head to Puerto Villamil and pick a hire shop to rent some snorkelling gear before heading to Concha de Perla. For advice about which shop to choose, ask your friendly staff at Chez Manany Ecolodge. Walking down the wooden walkway towards the sea, you'll find sleepy sea lions on the path. Take a dip in the water with your snorkelling gear and explore the underwater world of Isabela Island. Spend the afternoon swimming with sea lions and all kinds of fish and marine life.
End your day with a tasty seafood meal and a cocktail at Endemic Turtle before walking back to your cosy ecolodge accommodation.
Day 2
On day 2, spend some time away from the coast and head in land to Sierra Negra Volcano. With a group tour, you'll spend five or six hours hiking to the crater and back, through amazing volcanic landscapes. Sierra Negra boasts the second largest crater in the world and the views from the top are unbelievable!
Spend the rest of your day relaxing on the beach. Take a short stroll up and down and find sally lightfoot crabs as well as marine iguanas bathing in the sun. Stay longer and you'll be lucky enough to get a good look at the beautiful red Galapagos sunset. Stop by the shop on the way back and pick up some tasty treats to cook up for dinner.
End your active day with drinks on your balcony at Chez Manany, overlooking the greenery of the surrounding landscape. Then, cook a tasty meal and enjoy a laid back evening. Apartments at Chez Manany boast a spacious living room, fully equipped kitchen and a dining room, so they're perfect for cosy nights in.
Day 3
Get up early today and take a kayaking tour to Las Tintoreras. Upon arrival you'll have the opportunity to explore the nooks and crannies of the igneous islets. Find all kinds of amazing creatures living on the rocks and beneath the water.
Next, head to the Tortoise Breeding Centre. See five different species of Giant Tortoises and learn about how these beautiful creatures are cared for and how their eggs are protected and incubated.
Finally, those of you who love birds will absolutely adore the flamingos which can be spotted at certain times of year. The flamingos are often found feeding in the handful of salty, brackish lakes near Puerto Villamil. Grab your camera and head to these lakes for your chance to see these beautiful creatures.
On your final night, enjoy a tasty meal at El Cafetal in the heart of Puerto Villamil. The chic decor and diverse menu provides the perfect setting for your last evening on Isabela.

Day 4
On your final day on Isabela Island, don't miss a trip to the Wall of Tears. Whilst nature certainly steals the show in the Galapagos Islands, there is a rich history which is often overlook. One of the most important historic sites in the Galapagos Islands is found right here on Isabela; the Wall of Tears. Rent a bicycle from one of the many hire shops in Puerto Villamil and cycle the one hour journey to this famous landmark.
Your 4 days on Isabela Island and at Chez Manany Ecolodge has come to an end. Take the boat back to Santa Cruz to either enjoy the rest of your stay on The Galapagos Islands or head home.
Got an extra day to spend on Isabela Island?
There's always more to do on Isabela Island. Whether you stay four days, or a whole week, you'll find plenty of activities to fill your schedule. If you have an extra day to spend on Isabela Island, we highly recommend a boat trip to Los Tuneles. Just off Isabela Island, this otherworldly location is comprised of lava-made tunnels and arches within the turquoise water. This unique spot forms important habitats for bird and marine life. Head here with your snorkelling gear and explore the volcanic landscape. Spot rays and sea turtles if you're lucky!
Where to stay during your four days on Isabela Island
Chez Manany Ecolodge is an utterly relaxing accommodation near all the attractions on Isabela Island. Boasting a beautiful natural environment and convenient location, our homely ecolodge looks forward to welcoming you to Isabela Island.
To book your stay with us, click here.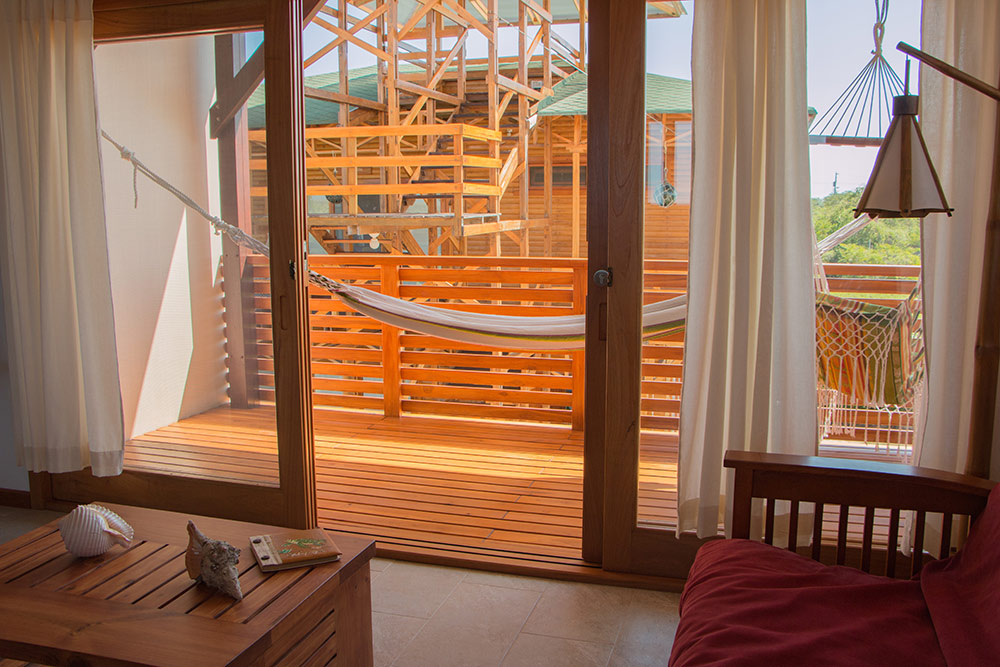 For more ways to spend your four days on Isabela Island, read our Ultimate Guide.