The Galapagos Islands is famous for its wealth of unique plants and animals found nowhere else in the world. Boasting beautiful creatures, untouched landscapes and thriving oceans, it's a paradise for those who enjoy the outdoors. Isabela Island – the largest of Galapagos Islands – is particularly interesting for tourists. Perfect for snorkelling and diving, featuring the second largest volcanic crater in the world and with a vibrant seaside town in its south, a trip here must be on your list!
In this article, we share the top 10 things to do in Isabela Island, Galapagos. Read on to find out more!
10 things to do in Isabela Island, Galapagos
Whether you're someone who enjoys slow strolls on the beach, seafood meals with a vibrant atmosphere, water sports, or adventurous hiking experiences, Isabela Island is the place for you. In this article, we share 10 great things to do in Isabela Island, Galapagos.
1. Surf the waves at Puerto Villamil
Whilst you may not consider Isabela Island for your surfing trip, it can certainly cater to surfers. If you're a beginner or someone who wants to start surfing, Isabela Island has a great surfing scene including lessons and a protected break. Wide beaches and surf which requires only a low level of experience can be found at Puerto Villamil. Those looking to grab a board and spend a day surfing in their own time, can hire from Galapagos Bike & Surf – located in the town. However this small local business also caters to those looking for surf lessons. Lessons are run by Junior, who is trained by the International Surf Association and has been teaching for more than 20 years! Whilst you're in the water, you're bound to catch some glimpses of local wildlife.
2. Go swimming
Taking a swim in Isabela Island is pretty standard practice! Head to Puerto Villamil and get yourself to the beach if you'd like to paddle or take a tip in the calm surf. Alternatively, there are a great number of other places to take a dip. Concha de Perla is the most popular place to take a cool swim during the hotter months. Only a short walk away from the town, this famous snorkelling area is home to lots of wildlife including marine iguanas, sea birds and lots of sea lions. As you walk down the wooden jetty and through the mangrove forest, spot sea lions lounging around on the walkways. Be quiet and careful as you pass!
3. Hike Sierra Negra Volcano
Sierra Negra volcano is a highly impressive site and has the second largest crater in the entire world. Visitors to The Galapagos Islands are able to hike to the top of the volcano when accompanied by a trusted guide. The hike takes five to six hours from start to finish and is somewhat strenuous at times. During the heat of the hot season and with the intermittent steep slopes, hikers will need to prepare accordingly. A number of tour companies in Puerto Villamil will be able to host you, however Choko Tours is one of your options. With a certified Galapagos National Park guide, lunch and transport included, you'll be well looked after.
4. Enjoy some snorkelling
Isabela Island is renowned for snorkelling and there's no wonder why. Dotted with coves, reefs and islets, the island hosts a huge amount of marine life throughout the year. Penguins, whale sharks, spotted rays and more will make your snorkelling experience on Islands Island one of the most exciting of your life. Los Tuneles, Concha de Perla and Las Tintoreras are just three incredible places to enjoy snorkelling. For more information about snorkelling on Isabela Island, please read our recent article.
5. Go diving
The shallow reefs, steep walls and striking underwater volcanoes which surround Isabela Island make it ideal for diving. Characterised by the presence of nutrient-rich waters and the force of the Cromwell Current, the water in Isabela's south is deep and cold. Take a dip and enjoy some scuba diving whilst staying in Isabela Island. There are plenty of tours to choose from which take you out to famous scuba diving sites. Zones for beginners as well as advanced divers are all accessible with a guide. For more information about scuba diving on Isabela Island, read out recent blog. 
6. Admire Isabela Island's Giant Tortoises
Isabela Island – just like other Galapagos Islands – is home to Giant Tortoises. In fact, tortoises in this part of the world are endemic to different islands. Many of the species live for more than 100 years. As these beautiful creatures are cold-blooded, they need to bask in the sun throughout the morning before becoming active later in the day. Whilst on Isabela Island, spend some time at Arnaldo Tupiza Tortoise Breeding Center. Here, Giant Tortoise eggs are carefully incubated and looked after by staff in a special hatchery. Walk through the wetlands here and take a sneak peak into the care that goes into ensuring the futures of these amazing creatures!
7. Have dinner in Puerto Villamil
Puerto Villamil is a gorgeous, sleepy town in the south and is the main settlement on Isabela Island. Originally a fishing village, but now heavily reliant on the tourism industry – Puerto Villamil is often an unexpected surprise for those visiting The Galapagos Islands. The sandy beach, local tour companies, restaurants and shops make Puerto Villamil worth visiting for a good few hours. In particular, the fresh seafood on offer here is unbeatable. With views of the beach and packed with locals, restaurants such as El Cafetal and both great bets Endemic Turtle.
8. Enjoy the water by kayak
Kayaking is a great way to enjoy the sea in The Galapagos Islands. Even during the slightly colder months, it's popular amongst tourists. Take the trip to Tintoreras with a tour group and paddle around the rock formations whilst admiring all the bird species marine iguanas and sea lions. Andando Tours offers a great option.
9. Watch the local Isabela Island wildlife
Isabela Island is teeming with wildlife – on land, in the air and under the sea. Walking around the island and wildlife spotting is a great activity to embark on; you will come across all kinds of animals! Take a walk by Punta Moreno and spot flamingos. On the beach, admire marine iguanas basking in the sun and see colourful sally lightfoot crabs walking across the rocks. Whether you head to mangrove forests, secret coves or wetlands, you're guaranteed to see something interesting. Read our recent blog about animals of The Galapagos Islands, and you'll find yourself inspired to get your walking shoes on and track down some creatures!
10. Relax on one of the best beaches in the Galapagos Islands
Puerto Villamil neighbours an incredible beach, perfect for an afternoon of lounging. Put a few hours aside to relax beside the sea during your stay on Isabela Island. Take a stroll along the beach, dip your toes in the ocean or take a dip. Either way, after all the exploring you'll be doing during your time on the island, you'll be grateful for the relaxing break.
Isabela Island accommodation
During a stay on Isabela Island, you will need a comfortable, local accommodation to rest your head. Nestled in the greenery of Isabela Island, close to all the main attractions and only minutes from Puerto Villamil, is Chez Manany Ecolodge. Our cosy, family-owned ecolodge is ideal for family groups as well as couples and even individual travellers. As an ecolodge and environmentally motivated local business, we work to make your stay as in tune with the landscape as possible. Click here for more information about our sustainability initiatives.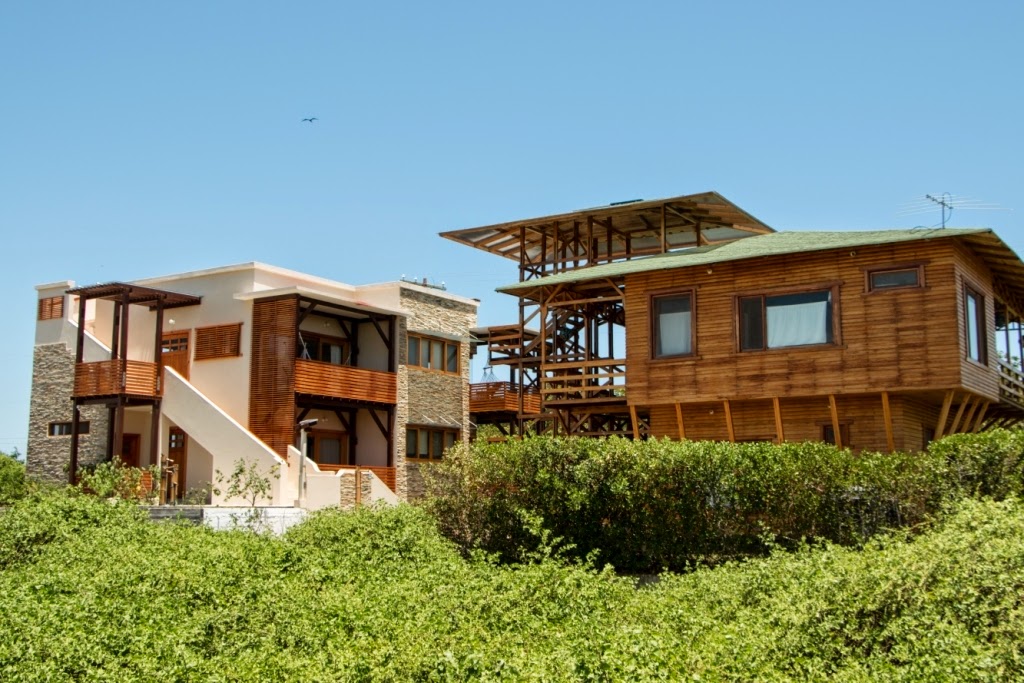 For even more information regarding things to do, see and discover on Isabela Island, Galapagos, check out our Ultimate Guide.