Sustainable Galapagos Accommodation
Sustainability isn't something that happens overnight. In a location that faces various environmental threats, Chez Manany Galapagos Ecolodge takes all kinds of measures to ensure that its footprint – and the footprints of its guests – are minimised. 
Sustainable tourism and the Galapagos Islands
Unique species of animals and plants in the Galapagos make it more unique than anywhere on earth. The Galapagos Islands – source and inspiration for Charles Darwin's theory of evolution – is a UNESCO World Heritage Site, for its outstanding natural and human value. These beautiful volcanic islands in the Pacific Ocean are priceless and can be considered a living library of ecological diversity. However, the Galapagos Islands do face some serious challenges when it comes to the condition of their precious environment. One of these problems, is in fact tourism.
Despite helping to fund scientific research and offering incentives for government protection, tourism to the Galapagos Islands directly brings about a number of issues. Intensifying impacts from climate change, deforestation, different kinds of pollution, overfishing, eutrophication of inland bodies of water and the introduction of invasive species are all examples of these environmental issues. Fortunately, there are lots of things tourism businesses can do to reduce the impacts of their operations upon the vulnerable environment of the Galapagos Islands.
Sustainability at Chez Manany Galapagos Ecolodge
Chez Manany is committed to doing just that. In the remainder of this article, we outline the environmental initiatives implemented by Chez Manany Galapagos Ecolodge, which help it to tread lightly upon beautiful Isabela Island.
Architecture and building
Manany and Wilson created Chez Manany to be eco-friendly from its very core. The building – designed by Wilson himself – was constructed to exist in harmony with the surrounding environment.
"The architecture, which my husband is responsible for, is what we are most proud of. The design is unique, it works with the natural surroundings. For example, shade is naturally created and winds are captured in the architecture to keep the rooms cool. No air conditioning is necessary because of this". – Manany, Owner.
The entire project was designed following sustainable principles. Inviting guests to experience the Galapagos in a more conscious way, Manany and Wilson help people to understand how they can be involved in the conservation and protection of the island.
Waste Management
Managing waste is very important to a sustainable tourism business on Isabela Island. At Chez Manany, this is practised with not only various waste materials, but also water.
Waste material | Organic waste is used on the property's own vegetable garden. Meanwhile, different streams have been established so to reduce unnecessary waste. In fact, at Chez Manany, guests are given a short induction which helps them to understand how to reduce their consumption of plastics and other harmful materials.
Water | Amazingly, the ecolodge has its own water treatment plant and is able to recycle all water. Waste waster is separated into two kinds; black water and grey water and through a complex system of chambers, it is reused.
Solar Energy
With the help of photovoltaic panels and solar heating panels, Chez Manany proudly produces all indoor and outdoor lighting with the help of the glorious Galapagos sun! Meanwhile, solar thermal energy heats water for showers, laundry and all kitchen needs.
Organic Garden
Chez Manany's own organic garden provides the property with different kinds of teas, herbs and even a self-made Aloe Vera after-sun lotion! Two years ago, Manany and Wilson began planting medicinal plants, including that of mint, valerian, chamomile, geranium, aloe Vera, dulcamara and basil. Today, this collection has grown, as has the thriving organic garden itself!
Today, guests at Chez Manany will discover a variety of fresh fruit and vegetables – including papaya, guanabana, maracuya, guava, lemon, orange, tamarind, peppers and tomatoes – grown amongst native plants and beautiful flowers. Conscious of their use of water, drip irrigation is used. This helps to control the amount used on a daily basis.
Conscious Operations
In addition to its strict energy and waste management practices, Chez Manany is also proud to be the first business to use an electric vehicle for all operational activities! On top of this, the accommodation also:
Has a strict biodegradable substances policy for housekeeping.
Encourages guests to use organic and ocean safe sunscreens as well as other beauty products.
Uses only biodegradable household items (no plastic).
Uses energy saving settings on appliances.
Of course, when it comes to sustainability, it's also up to guests to embrace eco-friendly behaviours. There's only so much you can do as a sustainable Galapagos accommodation business. For this very reason, Chez Manany works closely with guests. For example, an induction as well as written procedures guide guests and help them act with the environment in mind.
Social and environmental Engagement
Realising that sustainability has no boundaries, Chez Manany Galapagos Ecolodge works with the wider community. Spreading the message and encouraging a more sustainable approach to life is part of Manany and Wilson's everyday work. Organising beach clean ups in cooperation with the national park on the island is one way in which the couple have been able to share their passion with the community. Meanwhile, working with the Hotelier Association on the island, the couple have become true specialists in the area of conservation and sustainable management on Isabela Island.
Manany describes the time when Chez Manany became known as a sustainable Galapagos accommodation option on Isabela Island:
"The authorities started to pay attention to us, even the Mayor turned up at Chez Manany Galapagos Ecolodge! He asked us about what we were doing and this went on to inspire a local project for solar lamps. Three years ago we formed – and now lead – a hotelier association to improve the eco-friendliness across other hotels and tourist services in Puerto Villamil. On top of this, we also aim to protect the culture and economic development of the population. It is still small, however we are always increasing in size and bringing new people to the group. We hope to inspire others to act sustainably into the future." Manany.
The Most Sustainable Galapagos Accommodation
Truly sustainable Galapagos accommodation is hard to come by but at Chez Manany, the environment is always put first. Great attention to detail and meticulous eco-friendly planning makes this beautiful ecolodge on Isabela Island the perfect choice for environmentally conscious travellers.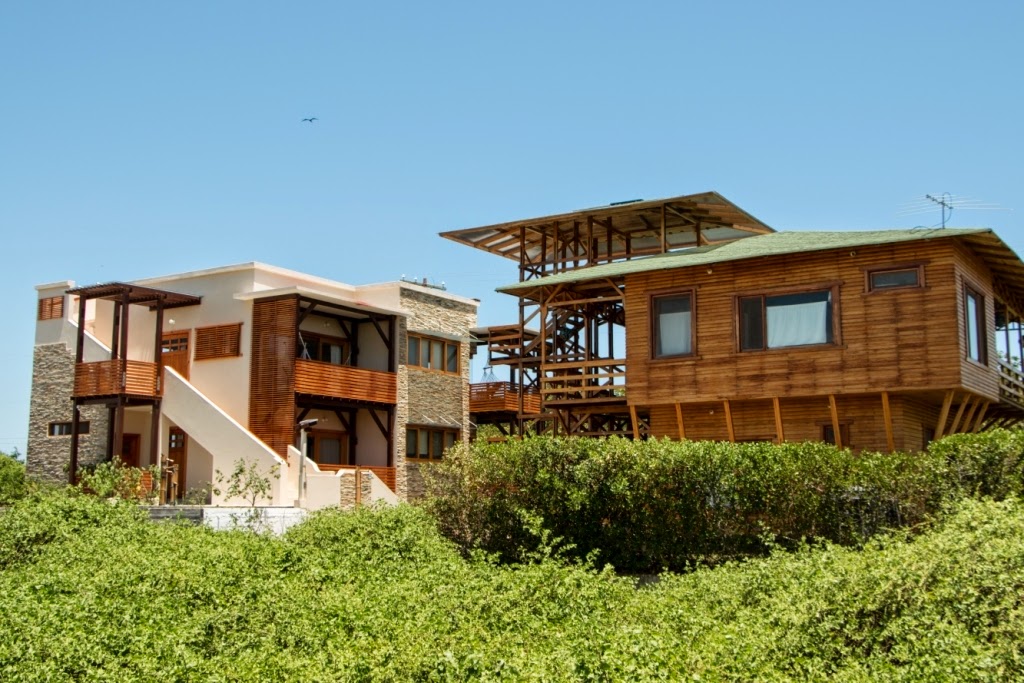 Boasting a convenient location, views packed with greenery and idyllic rooms, Chez Manany is your eco-friendly home away from home on Isabela Island!
For more information, or to book a room, click here.