A visit to the Galapagos on your own can be an incredible adventure. You'll have the opportunity to explore the unique ecosystems and wildlife at your own pace, without the restrictions of a tour group. Plus, with the islands' low crime rate and incredible tourist attractions, the Galapagos Islands couldn't be more suited to solo travel. But during your trip it is important to plan carefully. In this article we help you understand why solo travel to the Galapagos is a great idea – and offer some advice about how to plan yours.
Solo travel in the Galapagos
Every year, solo travellers head to the Galapagos Islands for independent adventures. Without booking onto a cruise and by choosing land based options, travellers carve out their own trips, focus on their own preferences and embark on adventures that they never forget. In short, it is totally safe and also highly encouraged to book solo trips to the Galapagos Islands.
If you're seeking a solo travel experience, a trip to the Galapagos might be a great place to start. But why is it so easy to visit the Galapagos on your own?
Reasons to visit the Galapagos on your own
Travellers are often put off by solo travel adventures due to a number of reasons. Crime rates, difficult public transport, lack of tourists activities, language barriers, dangerous health issues and many more things can decrease the number of solo travellers to a destination.
Fortunately, the Galapagos benefits from a number of great conditions which make it perfect for solo travel. Read on to find out why it is a great idea to visit the Galapagos on your own!
Explore on your own with no diseases to worry about
Dangerous diseases and major viruses like Zika and Malaria are practically non-existent in the Galapagos Islands, making it a safe destination to visit. You might also be happy to know that no vaccination are required for traveling to the Galapagos region of Ecuador!
Low crime rates – safe for solo travellers
Fortunately for all independent travellers, crime is not a problem on the Galapagos islands. In fact, the archipelago is very safe – perhaps one of the safest destinations in the world. According to insurance company World Nomads, "it's the kind of place where the 40,000 permanent residents leave their doors unlocked".
Additionally, due to the small size of the towns, there is little need to be concerned about getting lost. You also won't encounter unsafe neighbourhoods, making it safe to walk around at pretty much any time of day.
Reap the benefits of the Galapagos' environmental efforts
Don't worry about encountering large crowds during your visit to the Galapagos Islands, as they are well-protected from mass tourism. The Galapagos National Park, which comprises 97% of the archipelago, is a UNESCO World Heritage Site and Biosphere Reserve and is highly regulated and protected.
The conserved and protected nature of the islands means that you'll be witness to lots of incredible wildlife and there will be plenty for you to do and see. As a solo traveller, you certainly won't run out of things to do – with snorkelling, hiking, scuba diving, swimming in the pristine all at your fingertips.
Short travel distances across the Galapagos Islands
Getting between islands in the Galapagos is easy. In fact, you'll be able to take both boats, as well as flights, to your destinations. For example, by boat, you'll get to Isabela Island in under three hours (from Santa Cruz), whilst a flight will take you 45 minutes. Either way you choose to travel, it's easy to arrange and not particularly time consuming.
Boat journeys between islands are also relatively cheap at around $30 dollars for a ferry trip, whilst flights cost a little more. Let's just say, you won't need to worry about 20-hour bus journeys!
Beautiful wildlife and sites
If you're considering whether you should visit the Galapagos on your own, you might be thinking about the availability of activities on offer. Fortunately, there are so many things to do on the Galapagos Islands – you'll never run out of things to do. Solo travellers are able to enjoy quiet adventures away from the crowds, such as hiking, visiting breeding centres, hiring a kayak or swimming at the beach.
Meanwhile, those travellers seeking social interactions can enjoy the benefits of day tours. Embarking on snorkelling or scuba diving trips as well hiking tours and more, you'll be able to reap the benefits of group travel, without having your entire trip planned for you.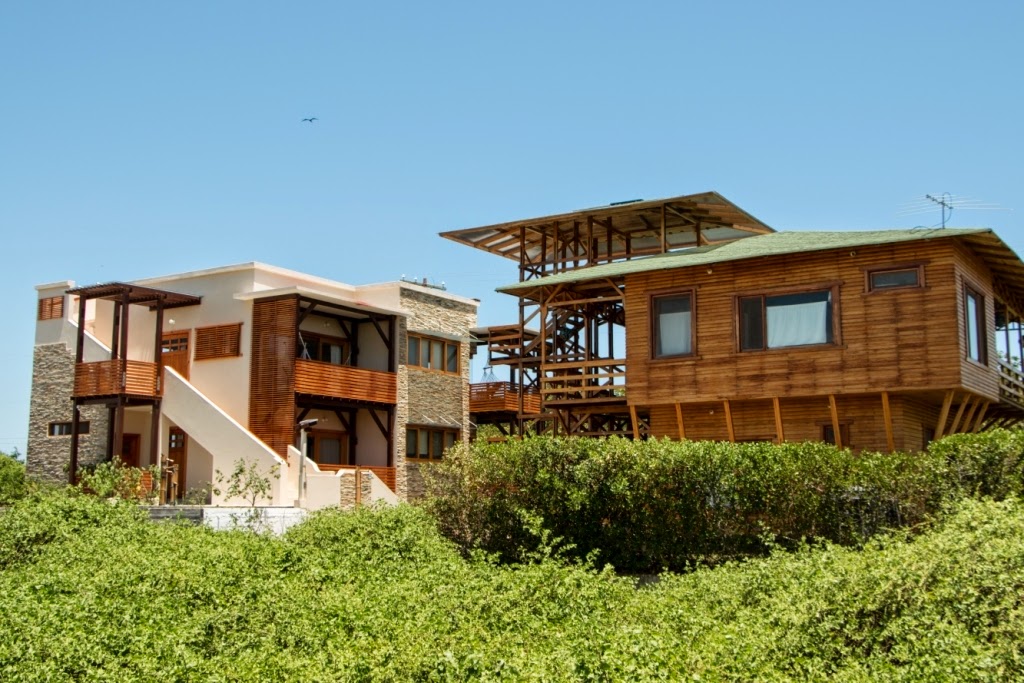 Great solo accommodation options
From friendly hostels, to casual rooms, ecolodges and five-star hotels, the Galapagos Islands has an accommodation option for everyone. If you're considering whether to visit the Galapagos on your own, the best thing you can do is to book accommodation where you feel comfortable and where your hosts can assist you with the details and finer planning of your trip.
At Chez Manany Galapagos Ecolodge, friendly hosts Manany and Wilson proudly offer local advice regarding what to see and do on Isabela Island (the largest island in the archipelago). Passionate about the environment and the beauty and diversity of the region, the couple are dedicated to hosting visitors who seek responsible and eco-friendly trips.
Recommending day trips, hire companies and restaurants to visit, Manany and Wilson are best placed to help you as you visit the Galapagos on your own. Their self-designed environmentally friendly ecolodge helps guests reduce their footprints and helps them feel like a local just outside of Puerto Villamil.
To book your stay, click here.