Embarking on some Isabela Island day tours during your visit to the archipelago's largest island is for many reasons, a great idea. With the help of a day tour, you'll be able to visit the places inaccessible as an individual person, whilst you'll also benefit from the help of an informed guide. But which Isabela Island day tours should you prioritise during your visit? In this article, we share some of the best Isabela Island day tours and help you decide which to book in during your visit!
The top 5 Isabela Island Day Tours
Isabela Island is vast, mostly covered by national park space. Offering lots of potential for exploration, the island is perfect for adventurers and those hoping to soak up the great outdoors. However, since lots of the land here inaccessible without a guide, or even a boat, you'll need some help getting around.
By opting to take day trips during your visit to Isabela Island, you'll ensure that you get to experience the best parts of the island. With the help of friendly guides from multiple Galapagos Island and local tour companies, a day tour is often your best bet.
But if you're only staying for a few days, you might not be able to do it all. That's why in this article, we have outlined some of the best Isabela Island day tours to consider during your visit. Read through the options we provide and start planning your Isabela Island itinerary of a lifetime!
Please note that multiple tour companies offer day tours across the island. During a stay at Chez Manany, you can select the appropriate day tour for your group, with the help of friendly and well informed staff. As advocates for a sustainable and environmentally friendly Galapagos Islands, we love to help our guests support local companies and to make great decisions!
We hope to see you at Chez Manany where we will assist you in selecting the best and most responsible Isabela Island day tours!
1. Hike to the breathtaking Sierra Negra Volcano
The mighty Sierra Negra is a large shield volcano at the southeastern end of Isabela Island. The biggest of volcanoes in the Galapagos Islands, it rises to an altitude of 1124m, it's 6 miles in diameter and 300 metres deep! If you're the kind of person who enjoys a hike, then a trip to the Isabela Island is incomplete without a hike to Sierra Negra.
A hike to Sierra Negra also offers visitors a chance to capture impressive views of Isabela Island. A fantastic landscape filled with native vegetation and seven species of finch amongst other Galapagos animals are also great to see.
An array of tour companies offer hiking adventures to Sierra Negra volcano. Typically, a tour involves driving into the Isabela highlands to the Galapagos National Park Control Point. From here, a guided hike takes visitors to the breathtaking caldera.
In order to obtain the best advice, your hosts at Chez Manany can direct you and offer the best advice for your requirements.
2. Experience a day tour to the iconic Los Tuneles
A visit to Los Tuneles is often one of the favourites when it comes to the best Isabela Island day tours. A series of collapsed lava formations under water and above the sea, Los Tuneles is a site to behold. Black volcanic rock and Laval tunnels under the water create fantastic habitats for marine life here. Guests can expect to see reef sharks, Golden Rays, Spotted Eagle Rays, Manta Rays, sea turtles, Galápagos Sea Lions and perhaps even sea horses here.
Arguably one of the best snorkelling locations on Isabela Island, Los Tuneles offers visitors the possibility to swim amongst amazing geological formations as well as marine life. The calm waters make it accessible for everyone.
Conscious of responsible tourism and the welfare of local wildlife, Chez Manany are well placed to offer their insight into the most sustainable Los Tuneles day tours. During your stay, ask the friendly staff who will happily help you make an informed choice.

3. Take a day tour to the striking Las Tintoreras
Anther equally exciting day tour involves a visit to Las Tintoreras. Composed of a collection of small islets, Las Tintoreras is a bio-diverse location on Isabela Island popular with tourists. Home to all kinds of native wildlife, the location is not only otherworldly but it's the perfect place to spot both marine animals.
Marine Iguanas, Galapagos penguins, Blue-footed Boobies, Galapagos Sea Lions, marine turtles and many more animals call Las Tintoreras home. The largest of the islands at Las Tintoreras is 900-metres, whilst the width of most is about 100 metres. Rocks and islets here are typically covered in marine iguanas.
A day trip to Las Tintoreras typically involves a boat trip to the location as well as kayaking and snorkelling. Under the water, you'll hopefully see rays, sea turtles and white tip reef sharks!
Select the best Las Tintoreras day tour with the help of your Isabela Island hosts.
4. Visit Isla Tortuga for an unforgettable day tour
A visit to Isla Tortuga isn't always on a tourist's to-do list when visiting Isabela Island. Due to the abundance of other things to do in the area, it often gets a little forgotten. However, we would highly recommend a visit! With the Isla Tortuga's sheer remoteness, a trip here will fill you with wonder.
Named for it shape (rather than the inhabitants of the island!), Isla Tortuga is a collapsed volcano which now stands as an ethereal looking island in the sea. Lots of seabirds nest here each year, including blue footed boobies, nasca boobies, frigate birds, lava gulls and tropical birds.
A visit to Island Tortuga from Isabela Island often involves snorkelling and diving. This is because the water in this area is well known for its habitant hammerhead sharks and giant manta rays. Seemingly in the 'middle of nowhere', Isla Tortuga offers a real thrill, with only marine and wildlife anywhere to be seen in all directions.
During your stay with Chez Manany, owners Manany and Wilson would love to advise you on the best way to visit Island Tortuga.
5. Take a bicycle tour to the Wall of Tears
A very different options compared to the marine and wildlife focused Isabela Island day tours, a cycling trip to the Wall of Tears is nevertheless worth at least a few hours of your time! The Wall of Tears is a historical site located 5 km west of Puerto Villamil. The site was built by penal colony prisoners between the years of 1945 and 1959. It is thought that there is no reason for the wall being built, other than to punish prisoners.
A bike trip to the eery Wall of Tears offers guests to the Galapagos insight into its history. On your ride, you will most likely see giant tortoises on the path as well as wetlands where birds flourish. You can even stop for a swim on the way!
In order to cycle here, guests can book onto a tour. Alternatively, there is also an option to hire bikes. At Chez Manany, guests have access to complementary bikes which can be used to reach the Wall of Tears. This particular option amongst all Isabela Island day trips is therefore free for all guests to the hotel.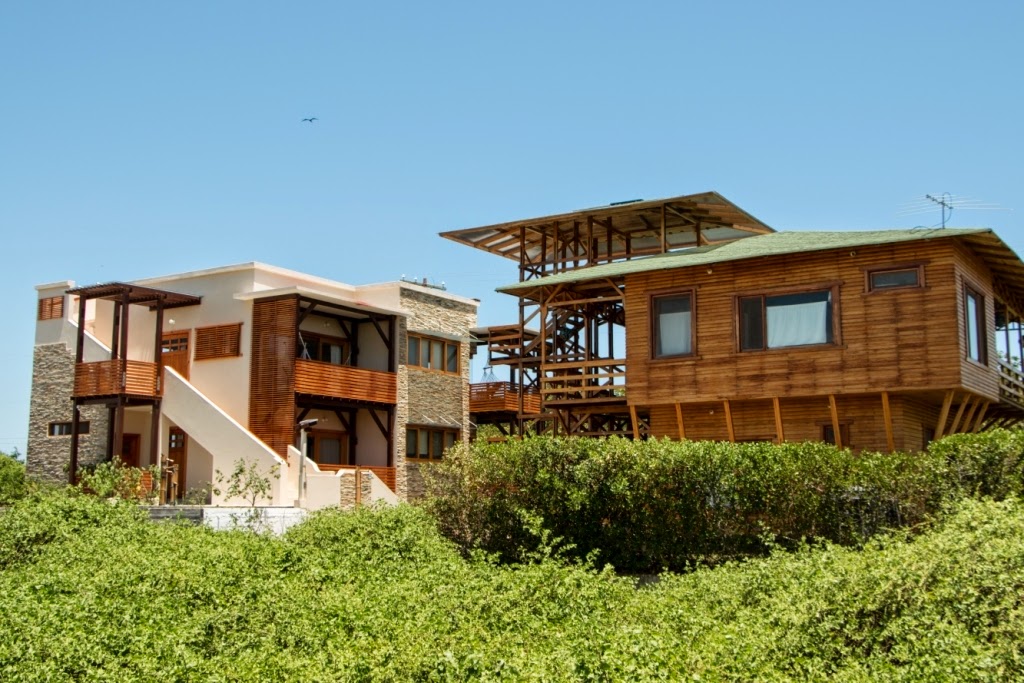 After your Isabela Island day trips: Chez Manany
With lots of Isabela Island day tours on your agenda, you'll need a nice, friendly and comfortable place to rest your head at night. Chez Manany is an eco-friendly, upscale ecolodge which puts guests in proximity with nature whilst offering an authentic yet luxury stay on Isabela Island.
Our friendly staff, and owners Manany and Wilson, love to advise you in selecting the perfect day trips and making your stay with us as amazing as can be!
To quickly check our room prices or to book your next stay, click here!