Sustainable, family-friendly Isabela Island Accommodation
The Galapagos Islands are home to tight knit communities, endless wildlife and phenomenal landscapes. At Chez Manany Galapagos Ecolodge, we pride ourselves in providing guests with not only accommodation, but incredible, intimate and well-informed Galapagos stays. Sharing the best parts of beautiful Isabela Island with you is our main goal.
At Chez Manany we are also proud to say that our ratings are higher than most other hotels and hostels across the archipelago:
Booking.com: 9.7/10
TripAdvisor: 5/5
Google: 4.8/5
Different kinds of guests stay with us at our environmentally friendly eco-lodge and we have been lucky enough to hear about their experience staying with us, not only through conversations but through online reviews. In this blog, we share with you a number of reviews and invite you to stay with us on your next trip to the Galapagos Islands.
Who likes to stay at Chez Manany Galapagos Ecolodge?
Family groups
Chez Manany loves to host families with children – all ages are welcome and those under eight are given a special price. Games at reception are available for families looking for some quality rest time and our location near well-known snorkelling spots makes us ideal for families with children. We pride ourselves on being family-friendly accommodation. Here's a review from some of our recent guests:
"We stayed at Chez Manany's for about a week. We are a family of 6. Manany was extremely helpful with anything and everything we needed, and her property is absolutely lovely….one of our favorite places to stay during our travels. The architecture and buildings are beautiful, everything is pristine – clean and fresh. Beds are super comfy, hot showers, kitchen stocked very well with new/high-end items….everything you could need to prepare food in your apartment. "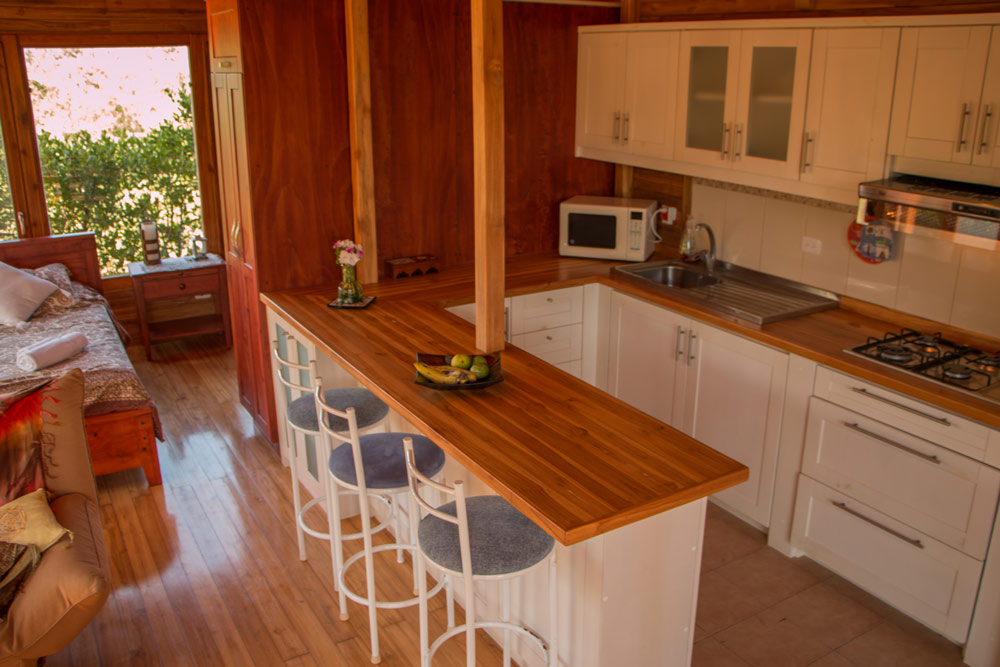 Sustainable travellers
Our ecolodge was designed using sustainable principles. At Chez Manany we implement zero-waste management, support local craftsman, use renewable energy, treat our own water and have an organic garden, amongst other things. Chez Manany is committed to the environment and welcomes those with an interest in sustainable tourism. Here's what one of our guests had to say:
… The hosts are dedicated to making their lodge environmentally friendly. They have planted an herb garden, which guests can use, and have a small orchard growing. I highly recommend Chez Manany if you are staying for several days on Isabela and if environmental ethic is a priority. As a bonus, the lodge is only a couple of minutes away from excellent snorkeling at Concha de Perla.

Longer-term guests
Although some guests choose to stay at Chez Manany for only a few nights, there's plenty do for more than a week. Those guests looking for stays longer than seven nights will receive a special discount. In addition, those staying for local research projects or looking for longer stays can get in touch. Here's what one of our guests had to say about their trip:
"We stayed at Chez Manany for 12 days and will definitely be back. Mariana was a fabulous host and helped us with anything that we needed. The home was very clean and private and just as stated on the website. Looking forward to our next stay at Chez Manany."
Couples
Chez Manany is a popular choice for couples and those looking to explore the island with their partners. Our beautiful apartments and laidback atmosphere is ideal for romantic getaways. Honeymooners are also welcome at Chez Manany and we are more than happy to decorate your room prior to arrival and include a small surprise in your unit to make your stay all the more special!
"Chez Manany is a hidden gem on Isabela! There are just a few beautifully designed, eco-friendly units available, and the location is perfect: away from all of the hustle and bustle but still an easy walk into town. The owner Manany is great, so helpful and friendly but very respectful of privacy as well. It's a place we will never forget, and that I highly recommend!"
Single travellers
We sometimes have single travellers staying with us and are more than happy to host those visiting alone. Our accommodation is comfortable, safe and our studio apartments make for excellent bases for individual guests. We pride ourselves on providing great customer service but also helping people plan their trips. So, if you're looking to visit the Galapagos Islands alone, we are your home from home and we can't want to meet you! Here's what one single female traveller had to say about her stay:
"Manany was an incredible host. As a woman traveling abroad alone, I felt safe, and comfortable in this lovely environment. I stayed for 7 nights, participating in tours each day. Manany was awesome at assisting me with communication and transportation on several occasions. She took the time to recommend dining options, grocery locations, anything that I needed. My studio at the Ecolodge was super clean, and nicely decorated. I had use of a bike which made trips to town easy. The short walk to Concha de Perla for snorkeling was really great too. I highly recommend!"
What the owners of Chez Manany have to say
"The most rewarding about our Ecolodge is seeing guests appreciate our work, not just the personalised attention that we offer but also our sustainable approach. Our guests feel so good about it and elevates them. They feel part of our project and it makes them feel proud to know that they have chosen the best place to stay during their trip and more over that their decisions are impacting their kids choices for future travels."
If you're looking for some Galapagos Island accommodation that is more than just a place to sleep. Chez Manany is perfect for you. Our accommodation is built upon good morals, environmental care and a passion for Isabela Island.
For more information about us, or to book a room, please click here!