Chez Manany Galapagos Ecolodge is a business led by numerous sustainability principles. Passionate about sustainable tourism, the owners have built the property using local craftsmen, integrating solar panels and a water recycling system, planting their own organic produce and much more. But in order to have a significant impact, sustainable accommodation businesses must look beyond their own actions and extend eco-friendly principles to visitors. In this article, we share a number of tips for sustainable travel in the Galapagos Islands. 
Tips for sustainable travel in the Galapagos Islands
1. Seek local businesses
When it comes to travel, sustainability doesn't only mean 'eco-friendly'. Visitors to the Galapagos Islands should also pay attention to the social issues on the islands which they visit. Did you know that only 5% of the money paid for a tour (booked by someone in the developed world who is visiting the developing world) actually reaches the community? Whilst this statistic isn't specific to the Galapagos, it shows the need for local spending within destinations across the globe.
Where possible, speak to your accommodation provider and ask for their advice regarding which businesses are local and which are internationally-owned. Your effort to contribute to local business will go a long way. Having said this, it is also important to look into the environmental initiatives taken by the company you choose to embark on activities with. Whilst local support is great, paying for negative impacts is also destructive.
2. Search for sustainable accommodation
Sustainable hotels, lodges and hostels do exist in the Galapagos Islands, you just have to spend some time looking. On the websites of those hotels which care deeply for the environment, you will often find specific information about the sustainability initiatives implemented. Sometimes, you may even find a green certification. However, don't consider a lack of certification a negative thing. Many small, sustainable accommodation providers choose not to invest in certifications, due to their generally high price tag. To really find out about a hotel's stance on environmental protection, feel free to call or email the establishment and find out more. Remember, spending your money on sustainable hotel businesses means financially supporting conscious operators and acting on your values.
3. Use reef-safe sunscreen
One very simple thing that guests to the Galapagos Islands can do in order to reduce their impact on the environment, is to buy and wear reef-safe sunscreen. Many different brands now exist and are available for purchase. Harmful chemicals in regular sunscreens can be dangerous for coral reefs and new research suggests that they can even bleach coral. In particular oxybenzone and octinoxate, are just as dangerous to coral as warming ocean temperatures and extreme weather conditions.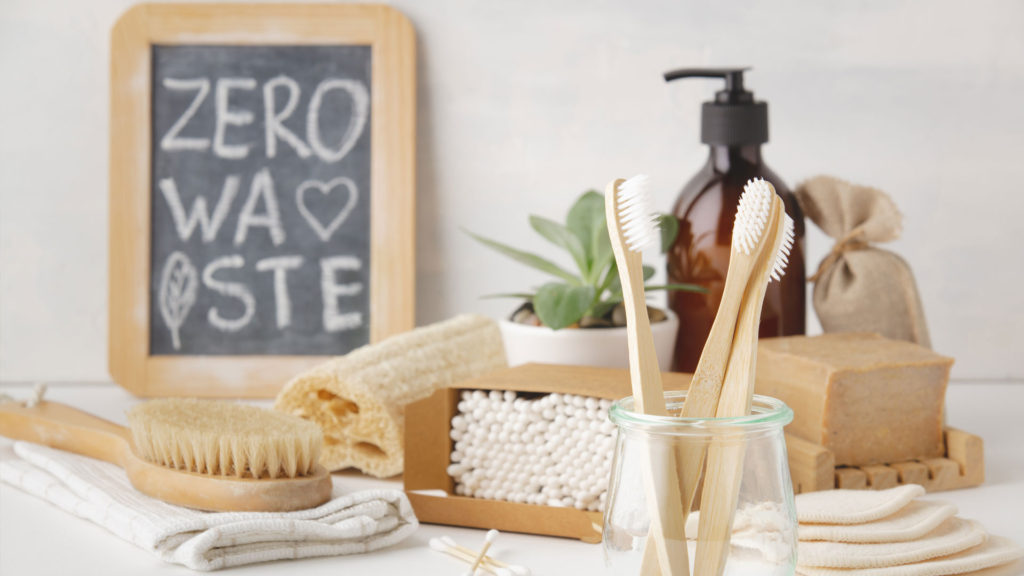 4. Bring a re-usable bottle with you and practice a zero-waste policy
Saying no to plastic bags, rejecting plastic water bottles and avoiding all other plastic waste is something which goes a long way in the Galapagos Islands. The precious environment is packed with wildlife and the seas are filled with incredible creatures. Plastic waste can be extremely detrimental to life on the islands and avoiding harm is not difficult. Bringing a re-usable water bottle with you, is one great step you can take to avoid creating plastic waste. Consider the fact that you might typically purchase two water bottles per day on a 5 day trip; you'll be preventing 10 plastic bottles from polluting the local environment.
5. Follow the rules of the National Park
When visiting the Galapagos Islands – a National Park and World Heritage Site – make sure you act responsibly. Align your behaviours with the rules set out by Galapagos National Park Directorate (GNPD). Staggeringly, the islands are made up of around 97% national park protected land. Therefore, whilst exploring you should make sure you know how to act in line with the regulations. To find the fourteen rules set out by the GNPD, please click here. 
6. Do your research
One of the most important things you can do before you visit the Galapagos Islands, is do some research. Regardless of whether that involves learning some basic language, seeking sustainable hotels, considering which food you might eat in order to reduce harm on marine life, or calling operators in order to learn about their sustainability initiatives, every piece of information helps you to act consciously during your trip.
Chez Manany Galapagos Ecolodge
Our ecolodge doesn't only offer guests a great location, beautiful nature and comfortable accommodation, but also eco-friendly credentials that help to make your Galapagos trip guilt-free. In order to learn more about how to be a sustainable traveller in the Galapagos Islands, please feel to reach out. We would love to help you and offer you the advice you need.