The Best of the Galapagos Islands
Despite their remote location in the Pacific Ocean, the Galapagos Islands are a hugely popular holiday destination. As we approach the end of 2021 and with Covid-19 less of a halting factor in our mobility, there's no better time to visit the Galapagos Islands. But what are the best places to visit in the Galapagos Islands? Read on, because in this article we share our favourites.
Otherworldly landscapes and laid-back coastal towns make the Galapagos Islands a truly special holiday destination. However when presented with the task of planning a trip to these beautiful, wildlife-rich islands, you will be overwhelmed with choice. The Galapagos Islands are made up of 127 islands big and small, rocks, islets and islands, inhabited and uninhabited. Some you can visit, others you can't. In this article, we outline the very best places to visit in the Galapagos Islands to help you plan a wonderful trip and enjoy a rich Galapagos experience.
What to expect from a visit to the Galapagos Islands
Most visitors coming to the Galapagos are looking for a few things: wildlife sightings, activities, relaxation and beautiful surroundings. On many of the Galapagos Islands these things are absolutely possible. Water-based activities such as snorkelling, scuba diving and kayaking are great ways to experience the coastal landscapes and thriving underwater world. Meanwhile, hikes to volcanos set within striking lava-made landscapes and around rocky coastal paths are hard to beat. The islands' coastal towns are wonderfully laid-back and will help just about anyone relax! Wildlife including unique marine creatures and curious land dwelling animals seen here are like no others in the world.
The best way to visit the Galapagos Islands
Whilst it might be tempting to take a cruise, we highly recommend land-based travelling and island hopping. Spending time on an island helps you to enjoy the local cultures, try the local food and experience the environment in a way that is not possible by boat. Opting for hotels directly helps the local economy, meanwhile allowing yourself flexibility and rejecting a tight schedule means you can stay in the places you love and do more of what makes you happy!
So, consider adding the following list of places to visit in the Galapagos to your itinerary. Below, we offer any kind of visitor a plan for their upcoming holiday to the Galapagos Islands. Let's go!
The Best Places To Visit in The Galapagos Islands
1. Visit one of the Galapagos' best beaches at Tortuga Bay – Santa Cruz
One of the best beaches in the Galapagos Islands, Tortuga Bay on Santa Cruz Island, is a wonderful sight to see. Escape here for the day and enjoy the sandy white beaches. Whilst it might not be the most accessible beach, the walk down to the sea which mainly consists of a boardwalk, is an equally enjoyable part of the trip. Tortuga Bay on Santa Cruz is not only great for the opportunity it presents for relaxation, but it is home to lots of wildlife. On this beautiful part of Santa Cruz, marina iguanas, brightly coloured Sally Lightfoot Crabs, brown pelicans and sea turtles are all found. Flamingos can be spotted in the lagoon behind the beach at certain times of the year. Looking for some more adventure during your trip? Try a kayaking trip or go snorkelling here and witness the wildlife and natural beauty from another angle.
2. Explore Los Tuneles – Isabela Island
The largest island in the Galapagos and with some of the most amazing wildlife in the region, Isabela Island offers some excellent opportunities for adventure. Plus, often with fewer tourists and with a laidback atmosphere, Isabela Island is a favourite for those looking for an authentic Galapagos Islands experience. Take a tour to Los Tuneles during your trip to Isabela and admire the unique volcanic tunnels. A trip here will be a day-long experience, but it's certainly one not to miss. Typically it takes around 30 minutes to arrive by boat from Puerto Villamil and once you arrive your tour might include snorkelling. In the immediate area, snorkelers will find white-tipped sharks, manta rays, eagle rays, sea lions, turtles and even seahorses. The volcanic formations on the islands are iconic of the Galapagos Islands and being so close to them is an experience you shouldn't miss.
3. Experience the best of Galapagos history at Tagus Cove – Fernandina
Famous Tagus Cove on the wild and uninhabited Fernandina Island offers visitors an exciting Galapagos adventure. Totally iconic in Galapagos imagery and photography and usually on a visitors' Galapagos bucket-list, Tagus Cove is one of the best places to visit in the Galapagos Islands. Lava caves, coves and cliffs around the coast make it feel uniquely remote and untouched by humans. Tagus Cove is famous as a historical site visited by Charles Darwin in 1835. Before this, a British ship – The Tagus – visited in 1814. Tagus Cove was also for many years a hideout for whalers and pirates since it offered a secluded zone protected by waves and perfect for anchoring! Today, visitors to the Galapagos love to visit Tagus Cove for its abundant seabirds such as the blue-footed booby, flightless cormorant and Galapagos penguins. Also in the area, dolphins are frequently seen as are sea turtles, rays, sea lions and beautiful eagles.
4. Visit a world-class research centre at Charles Darwin Research Station – Santa Cruz
The Galapagos Islands are in part famous for the research performed there by Charles Darwin. Head to the Charles Darwin Research Station on Santa Cruz and you'll be able to gain insight into the island's history and ecology. The facilities at the centre were inaugurated in 1964 so that scientists could have a base for their research. For decades the centre has worked on conservation and restoration of the Galapagos Islands, helping to ensure that the archipelago is well-managed. When you drop by you'll be able to visit the conference hall, natural history collections, native gardens and public library. Plus, there's also an opportunity to see Giant Tortoises here too! For those who love science and nature, this is one of the best places to visit in the Galapagos Islands and really one of the most interesting research centres in the world.
Find out more about the Charles Darwin Research Station and the great work they do and you'll absolutely want to integrate a visit into your plans.
4. Find the eery Wall of Tears – Isabela Island
Perhaps the eeriest attractions on the Galapagos Islands is the wall of tears on Isabela Island. Tucked away a one-hour hike away from the town, you'll find the spooky Wall of Tears. However, before you arrive and as you hike through the scenery, you'll capture breathtaking views including mangroves, home to flamingos and iguanas. Whilst upon arriving you may find the wall to be underwhelming, it's the history of the area that will make you quiver. Constructed between the years of 1945 and 1959, the wall was built by prisoners in the penal colony after the Second World War. Around 25-metres high, the wall – which seemingly had no purpose other than to punish prisoners – caused thousands of deaths during its construction. Locals call the wall the Wall of Tears, because it is said to emanate eerie cries and have a heavy energy in its vicinity.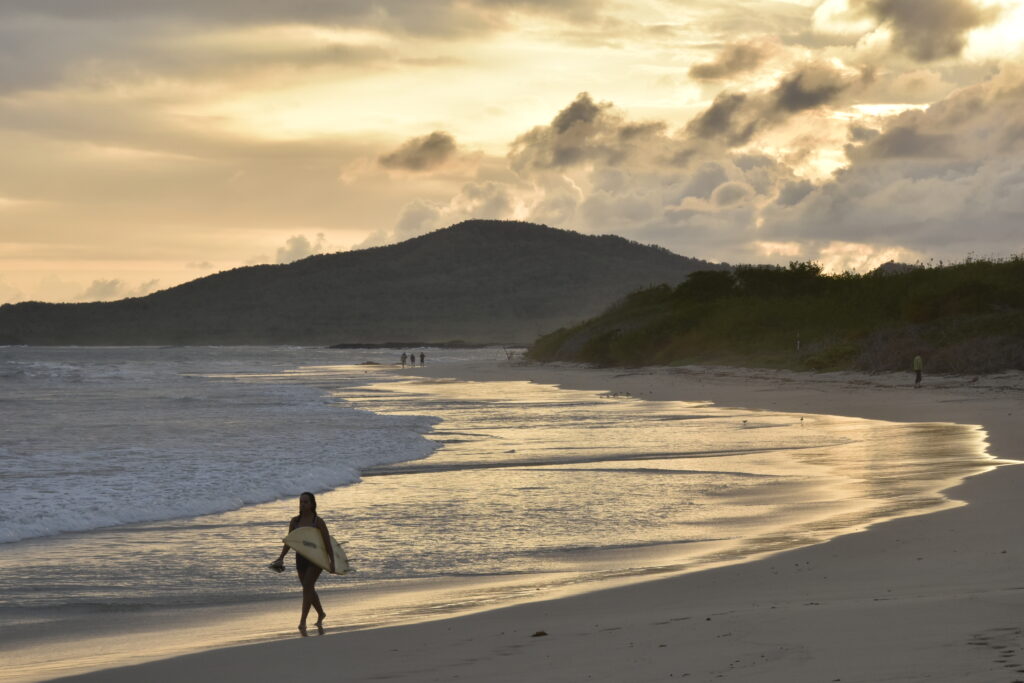 5. Experience a laidback Galapagos village at Puerto Villamil – Isabela Island
Whilst most of the information in this article points towards natural attractions, Puerto Villamil is a great town to visit for those looking for an authentic Galapagos experience. Known for its laidback atmosphere, cosy restaurants, gorgeous sandy beach and proximity to many local attractions, Puerto Villamil is a little paradise village on Isabela Island. In fact, whilst Puerto Ayora on Santa Cruz might offer a surprisingly developed settlement, Puerto Villamil is somewhat less busy. Side walks here are made from lava rock and there's no ATM in sight. Only a handful of vehicles can be found. Open air restaurants are the eateries of choice for diners and the gorgeous beach frames the village in a picture-perfect manner. Puerto Villamil is certainly one of the best places to visit in the Galapagos Islands!
For information about eco-friendly accommodation in Puerto Villamil scroll to the bottom of this article.
6. Spot sea lions at La Lobería – San Cristóbal
Those hoping to see seal lions during a trip will adore La Lobería on San Cristobal. This Galapagos Island has the largest population of sea lions by far. Around 2.5km south of Puerto Baquerizo Moreno, La Loberia is on the south-west coast of the island. To get to Playa Lobería you can either walk or take a taxi. Once you have arrived, there's plenty to do and see. On top of admiring the lazy sea lions on the beach, you should swim in the sea, go snorkelling or simply sit back and enjoy the scenery. Local wildlife just like many places in the archipelago includes Laval lizards, iguanas and yellow warblers amongst many more!
7. Discover a gorgeous Galapagos beach at Suárez Point – Española Island
One of the most wildlife-rich areas in the Galapagos, Suárez Point on Española offers you a glimpse of many creatures all in one place. The world's largest albatross comes to breed here and is one of the island's top attractions! Of particular note, Suárez Point on Española is also one of the only places you can find red and green marine iguanas which are at their most colourful from December to January. Scattered across the rocks, beach and in the sea, you'll also see lava lizards, Sally Lightfoot crabs, Darwin's finches, Galapagos hawks, sea lions, and both the iconic blue-footed and Nazca boobies. The great thing about a visit here is that once you arrive at the dreamy beach, you'll find a nicely marked trail ready for guided tours to Suárez Point itself. As you wander, you'll also be surprised to find blowholes that throw water high into the air.
8. Witness the magnificent wildlife of Punta Espinosa – Fernandina Island
One of the Galapagos Islands' very best attractions is Punta Espinosa. You might even consider this to be one of the most pristine places on the planet. No animals have been introduced to Fernandina Island and so the ecosystem that exists here is intact and untouched. Punta Espinoza is well-known for its amazingly large population of marine iguanas which cover many parts of the landscape in all directions. In fact, a whopping 100,000 black and grey iguanas are thought to be present in Punta Espinoza! Snorkelling here is absolutely possible and also encouraged. If you're lucky you might see penguins, sea turtles, flightless cormorants and you'll almost guaranteed to see sea lions.
9. Take the best Galapagos hike at Sierra Negra Volcano – Isabela Island
Since the Galapagos Islands are volcanic and were formed by volcanoes, it seems fitting that visitors should see a volcano during their trip. The Galapagos Islands were formed by repeated underwater volcanic eruptions which took place over millions of years. The result of these eruptions in this volcanic hotspot was the birth of the many islands. Sierra Negra is the ultimate choice of volcano in the Galapagos, and is well worth the the trip. As an active shield volcanos and with one of the largest calderas in the world (30km in circumference!), Sierra Negra is sight to behold. Sierra Negra can be visited as a day hike from Puerto Villamil – the main settlement on Isabela Island. A dirt trail leads up to the crater rim of the giant Sierra Negra caldera, and once you arrive at the top you'll be awarded with breathtaking views inside. The walking trail then continues onto Volcan Chico, for a more up close look at the volcanic landscape and a glimpse of another caldera.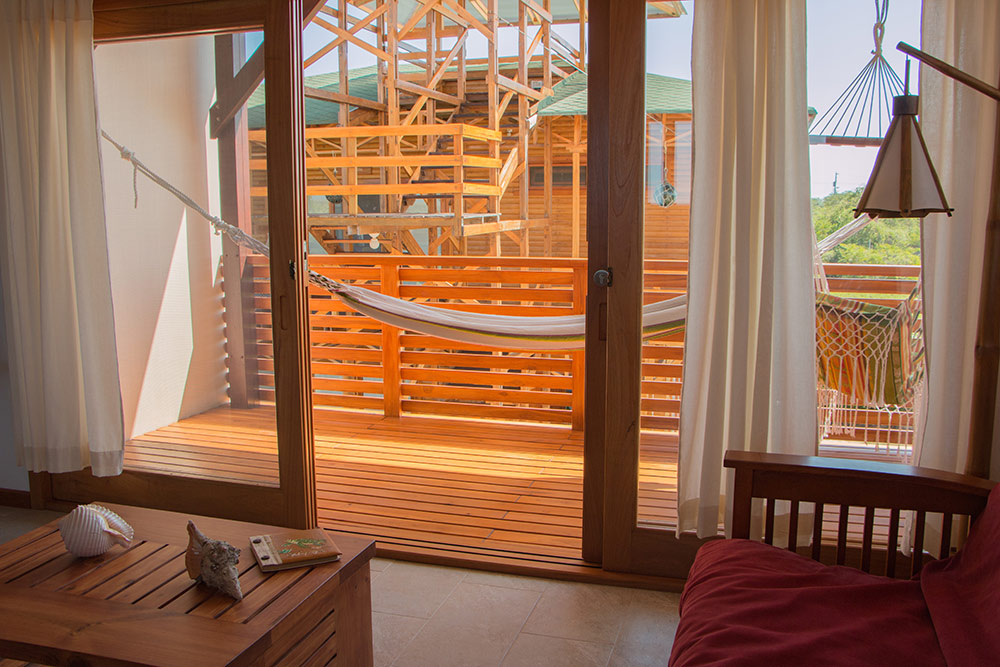 The best accommodation for a visit to the Galapagos Islands
A trip to the Galapagos Islands deserves to be paired with some great Galapagos-style accommodation; something authentic, sustainable and homely. Chez Manany just outside of Puerto Villamil on Isabela Island is exactly that. Close to all the main attractions on Isabela Island and ideal for a relaxing escape, this is the perfect accommodation for those seeking something authentic and close to nature.
The warm hospitality of the hosts Manany and Wilson who designed the environmentally-friendly eco-lodge will make you feel welcome. Meanwhile, those guests who are concerned about their footprints need not worry during a stay to Chez Manany. Sustainability is at the heart of the ethos and the duo love to show guests how tourism can remain in line with the ecology and incredible landscapes of the island.
Book a few nights at Chez Manany for the ultimate Galapagos experience. For more information about Chez Manany, click here!
For more information about things to do on Isabela Island, check out our ultimate guide.